Wildfire is a fast read that will take even reluctant readers into the heart of a fast-moving catastrophe.
Wildfire by Rodman Philbrick. Blue Sky (Scholastic), 2019, 199 pages.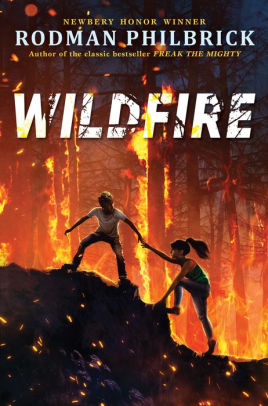 Reading Level: Middle grades, ages 10-12
Recommended for: ages 10-15
We wake up to the smell of smoke . . . The fire is still far away enough that we can't see it yet, but to be on the safe side, Camp Wabanaski will be evacuated as soon as the buses get here.
That's the first paragraph of this nonstop survival thriller. Within the next two pages, Sam Castine suddenly remembers that he left his phone still charging back at the cabin, leaves his place in the boarding queue, runs back to the cabin, searches for the phone, snatches it up, and runs back only to find his way blocked by exploding trees and a wall of fire. He's on his own in the Maine wilderness, smack in the middle of the worst wildfire since 1947.
Nothing like a life-or-death opening hook! And the story picks up from there, with mad dashes and brief pauses, threats from crazed wildlife and mad bikers, fortunate nick-of-time finds, and a friendship forged in the worst kind of adversity. The bikers stretched my credulity a bit, and there would have been sufficient dramatic tension without them, but otherwise the setting is so realistic you can hear flames crackling.
Especially relevant after two years of real-life devastating wildfires in California, this is a page-turner followed by an appendix crammed with valuable information on how to prepare for all kinds of emergencies. Don't be surprised to find a preppie on your hands after he turns the last page.
Considerations:
As you might expect, the action is intense, and may be too much for sensitive readers.
Overall rating: 4 (out of 5)
Worldview/moral value: 3.5
Artistic/literary value: 4
We are participants in the Amazon LLC affiliate program; purchases you make through affiliate links like the one below earn us a commission.
Also at Redeemed Reader
We've reviewed other books by Rodman Philbrick, namely Zane and the Hurricane and The Big Dark. Another edge-of-your seat survival thriller is Terror at Bottle Creek. For real-life survival tales, see our reviews of Bound by Ice and The Quest for Z.
Stuck at home? Enjoy our FREE Christian read-along adventure for all ages with lots of book ideas, discussion questions, and more!
Reading Ahead for You
Reviews and Resources Weekly in Your Inbox