This gripping true tale of first North Pole exploration takes middle-graders into the frozen wastes for a saga of endurance.  Ages 10-15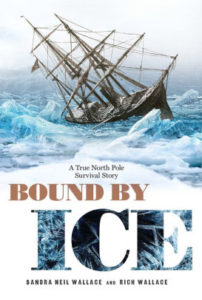 Bound by Ice: a True North Pole Survival Story by Sandra Neil Wallace and Rich Wallace.  Calkins Creek, 2017, 169 pages plus index and author note
Reading Level: Middle grades, ages 10-12
Recommended for: ages 10-15
In 1879, no one had seen the North Pole (or at least had never talked about it), but speculation was rich and imaginative.  Supposedly, the very top of the world concealed a huge temperate lake teeming with sea life—likely new species that no one had ever seen—and why not timber, minerals, even gold?  Expeditions from England, France and Germany were in the planning stages.  Why shouldn't the US (only recently reunited after a devastating war) get there first?  Seeing an opportunity for fame and fortune, newspaper editor James Gordon Bennett recruited Lt. George deLong, a Civil War hero, to lead a hand-picked exploration corps to the Pole.  With the 145-foot steamer Jeannette and a crew of 33, the expedition headed north from Alaska in late summer 1879.
Well-equipped as it was, the expedition found itself in dire straits a year later when the Jeannette, trapped in the ice, broke up and eventually sank.  Without their vessel they had no choice but to hike to the nearest settlement.  Fortunately for the authors, though (and for us) Lt. deLong kept a journal, leaving an almost day-by-account of the ordeal.  Courage and cowardice, sacrifice and self-serving were all on display among the crew, but their persistence (and in many cases, their faith) shone through the worst circumstances.  It's not giving much away to say that few survived.  But as chief engineer George Melville put it, "If men must die, why not in honorable pursuit of knowledge?  Woe, woe to America when the young blood of our nation has no sacrifice to make for science."
Cautions: Depressing at times, when the men are facing starvation and exposure
Overall Rating: 4 (out of 5)
Worldview/moral value: 3.5
Artistic value: 4
Talk amongst yourselves...