Teddy Roosevelt travels the River Doubt, Percy Fawcett hunts for the City "Z," and a tiny fish is making headlines in conservation efforts for the Amazon.
The Amazon River Basin
Overflowing with vibrant life, there are countless unidentified species thriving alongside some of the most interesting lifeforms on the planet in the amazon Amazon River Basin. The Amazon area provides nearly 20% of our breathable air! One hundred years ago, the jungles of the Amazon–not for the faint of heart–were even more formidable than they are today. Read on for stories of famous Amazon explorers and one tiny fish that may help protect the Amazon River basin.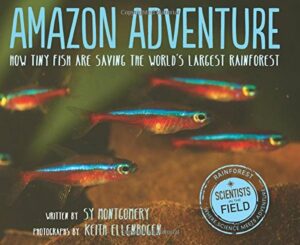 Amazon Adventure: How Tiny Fish Are Saving the World's Largest Rainforest by Sy Montgomery; photographs by Keith Ellenbogen.
HMH Books for Young Readers, 2017. 80 pages. Picture Book; Middle grades (ages 8-12).
Have you ever looked at the bright little tetras in the pet store aquariums? Maybe you own some of these little blue- or yellow-flashing fish. Did you know they are native to the mighty Amazon River? Montgomery tags along with aquarium experts to learn about these little fish and how their capture and sale to North American aquarium stores may actually be helping preserve some of the Amazon rainforests! This is a fascinating look at the Amazon itself, global economics and environmentalist efforts at work, and how you can help simply with your own small home aquarium. You will marvel at the intricacies and creativity of the Lord's creation and also learn a bit about the cultures in another place.
Overall Rating: 4.25; Worldview Rating: 4; Artistic Rating: 4.5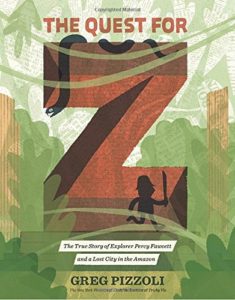 The Quest for Z: The True Story of Explorer Percy Fawcett and a Lost City in the Amazon by Greg Pizzoli.
Viking, 2017. 48 pages. Picture Book; ages 6-10.
Back when explorers were mapping the world's unknown spots and making newspaper headlines, British explorer Percy Fawcett set out to find a lost city in the Amazon; he called it "Z." Even though few others were convinced the city ever existed, Fawcett was undaunted and set forth. After all, he'd already completed many Amazonian adventures, complete with giant snakes, poison-tipped arrows, and other jungle hardships. Newspapers followed his journey much as they followed Nellie Bly's trip around the world. Until the day when Fawcett disappeared without a trace. Spare, humorous illustrations accompany the text, and occasional sidebars offer more information on related topics. This is adventure in picture book biography format, and your younger readers will enjoy having their "own" Amazon explorer book while you devour the Teddy Roosevelt books below. Be sure to trace Fawcett's journeys on a map!
Overall Rating: 3.75; Worldview Rating: 3.5; Artistic Rating: 3.75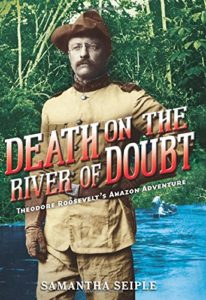 Death on the River of Doubt: Theodore Roosevelt's Amazon Adventure by Samantha Seiple.
Scholastic, 2017. 240 pages. Middle grades; ages 10-12 and up.
Closely paralleling Millard's account (see below), this is a fast-moving, engaging account of Teddy Roosevelt's harrowing trip down the 1000 mile River of Doubt (since renamed River Roosevelt). Full of direct quotations from diaries and other correspondence as well as photographs, Death on the River of Doubt is a fantastic adventure story full of danger and desperation. The men face starvation, a murderer within their midst, biting insects, native cannibals, and more. Roosevelt wrote, "On such a trip it is highly undesirable to take . . . risks, for the consequences of disaster are too serious; and yet if no risks are taken, the progress is so slow that disaster comes anyhow." A marked contrast to our current risk-averse society! Worth reading for the perseverance the men show and their determination in the midst of seemingly insurmountable odds. And older readers simply must read Millard's version (reviewed below).
Overall Rating: 4.25; Worldview rating: 4; Artistic rating: 4.5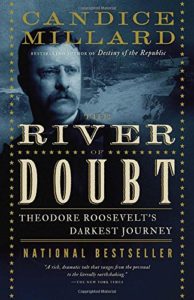 The River of Doubt: Theodore Roosevelt's Darkest Journey by Candice Millard.
Broadway, 2006. 416 pages. Reading Level: Adult (teens and up).
Telling the same story as the middle grades Death on the River of Doubt, Millard's version goes into far, far more detail. Accounts of Roosevelt's strenuous overland journey to the mouth of the river, his extensive preparations before the journey, and reflections on the character of the men involved in the expedition comprise the first third of the narrative. Millard includes copious natural history along the way; readers will come away with a strong understanding of the Amazonian jungles even as they learn about Roosevelt's actual journey. A notable omission in Millard's account is the lack of any spiritual depth. Minor evolutionary terminology is used in the natural history portions, but the lack of any spiritual discussions among the men on the journey is remarkable. Given Millard's attention to detail in every other respect, and given the life-or-death straits the men were in, the absence of faith of some sort is striking. This may not be Millard's focus; certainly she doesn't imply that the men were atheists. Rather, the book is simply silent on this point. Seiple's account (above) is similar in this regard. (Note: this book is also on the True Stories for Teens booklist!)
Overall Rating: 4.5; Worldview Rating: 4; Artistic Rating: 4.75
Please follow and like us: