Her Own Two Feet is the true story of a severely disabled Rwandan girl who finds hope and healing through a Christian aid organization.
*Her Own Two Feet by Meredith Davis and Rebeka Uwitonze. Scholastic, 2019, 193 pages.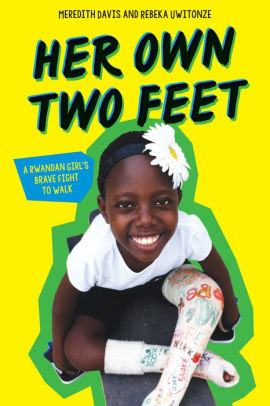 Reading Level: Middle graces, ages 10-12
Recommended for: all ages as a read-aloud; ages 10-15 for independent readers
Rebeka was the middle fifth child born to her 10-member family, and her life would have been unremarkable compared to most families of Rwanda except for the deformity most visible in her feet. Both curved almost entirely backward, making it impossible for her to walk. Her feet testified to a neurological disorder that also curved her thumbs into her palms and limited the use of her arms. Superstitious villagers suggested she be quietly done away with, but her parents knew, and continually told Rebeka as she was growing up, that God had a plan for her.
God doesn't always reveal his plans, but when Rebeka was nine years old a series of providential events brought a Clay Davis, a Texas businessman, to her village. One of his friends was sponsoring a little girl through a Christian charity called Africa New Life Ministries. The little girl happened to be Rebeka's sister. Rebeka had a sponsor, too, who happened to be a doctor in Austin who knew the Davises. When Clay showed the doctor pictures of his sponsored child, the man was stunned. He had not even known that Rebeka had a disability, especially one this severe. Might she be able to come to America for surgery? Thus an improbable chain of circumstances brought an obscure Rwandan girl to the chance of a lifetime.
Rebeka's plight is clearly relatable to young readers in the first chapter, when she is seen waking up at night in her family home and needing to visit the privy located outside. Because her feet are too tender to walk on, she has to crawl, hoping to avoid the goat poop in the dirt yard. After that opening, other hardships unfold, all the way through to her successful surgery in Austin. Every step (no pun intended) involves physical pain and determination, a huge calling for a girl her age. Throughout the story, the faith and love of her natural family and the dedication of her adopted family come through strongly. Rebeka stayed with the Davises for almost a year while going through her treatment and surgeries, so the co-author (Meredith Davis) was very close to the story and also "happens" to be an aspiring children's non-fiction writer. Providence was working in all kinds of ways to get the story into print.
"I was born the way God created me," Rebeka says, in a personal note at the end. "I endured hard things. If I can do it, you can do it." With God's help.
Overall rating: 5 (out of 5)
Worldview/moral value: 5
Artistic/literary value: 4.5
We are participants in the Amazon LLC affiliate program; purchases you make through affiliate links like the one below earn us a commission.
More at Redeemed Reader
A similar rescue story is told in The Last Airlift. For a more harrowing tale (suitable for older teens) see our reviews of Every Falling Star and Never Fall Down. For more perspective on Africa, see our interview with author (and former missionary kid) Jane Kurtz.
More than 75 books for children and teens, all about islands, oceans, and more. Bonus: get a free hand-drawn reading tracker!
Reading Ahead for You
Reviews and Resources Weekly in Your Inbox