Five high school students and one air-traffic intern will be severely tested as their private plane is Skyjacked.
Skyjacked by Paul Griffin. Scholastic, 2019, 227 pages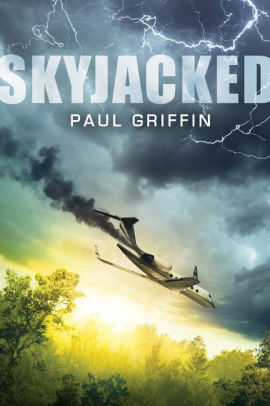 Reading Level: Middle grades, ages 10-12
Recommended for: ages 12-15
Five kids from Hartwell Academy are taking "one last summer blast" in the Idaho Rockies before starting their junior year. Jay is the only scholarship student and he wouldn't be here if Emily hadn't urged him to come along. The others are Emily's boyfriend Time (a jock, but nice enough), Brandon the smart kid, and Cassie, the de facto leader of the group. She had natural leadership qualities, including a daredevil streak, but also, her daddy owns the company plane they took on their wilderness adventure. He also owns the company, Andro Chemical. Less than an hour after they're in the air for their return to New York City, they hit some turbulence. Cassie becomes deathly ill and their plane seems to be flying in the wrong direction. Two and two go together pretty fast: this is a hijack. But why? And of the three adults aboard—pilot, copilot, and chaperone—who is behind it?
The author keeps us guessing almost to the end of this page-turner, and though the character development doesn't go especially deep, there's quite enough to question motives, strengths, and weaknesses. Readers will also take a front-row seat at the National Air Traffic Investigation Center (NATIC), where a quick-thinking intern is trying to put pieces together on the ground. Not exactly a tech thriller, but there's enough detail to communicate a sense of how air emergencies are actually handled. It's edge-of-the seat entertainment for air buffs, or just about anyone else.
Considerations:
The stakes are high here; some major characters die.
There's one exclamation of "Dear God in heaven!"—which, under the circumstances, might be a sort of prayer.
Overall rating: 4 (out of 5)
Worldview/moral value: 3.5
Artistic/literary value: 4.25
We are participants in the Amazon LLC affiliate program; purchases you make through affiliate links like the one below earn us a commission.
Also at Redeemed Reader
Another air-disaster novel (for a slightly older age group) we reviewed recently is When We Were Lost.
Reading Ahead for You
Reviews and Resources Weekly in Your Inbox