The Noodleheads series, by the author of Fly Guy, draws from classic simpleton stories to give early readers a chuckle.
Noodleheads Find Something Fishy (Noodleheads, #4) by Tedd Arnold, with Martha Hamilton and Mitch Weiss. Holiday House, 2019, 44 pages.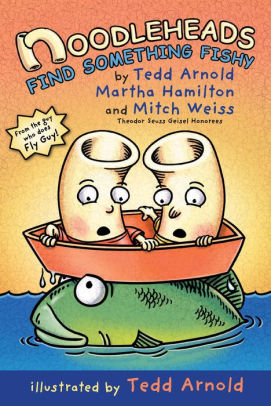 Reading Level: Chapter book, ages 5-7
Recommended for: ages 4-6 as a read-aloud, 6-8 for independent readers
Mac and Mac, the Noodlehead brothers, are macaroni with faces and limbs but nothing in the brain department. In their latest adventure, they decide to go fishing after finding a "fish stick"—that is, pole—but there's more to it than sticks. Like maybe boats, and bait. And very basic brain work, which is hard because they don't have brains. Still, they manage to learn something, even after getting outsmarted by a fish.
Tedd Arnold, author of the popular Fly Guy series, draws on "noodlehead" stories from various cultures, all of which have their notions of what a dumb cluck is. Early readers will get a kick out of the lengths our empty-headed heroes will go to get things wrong, and their parents may find the appendix interesting; there, the co-authors cite common "fool story" motifs and their sources. It seems that in all cultures at all times, people have amused themselves with the notion that, no matter how dumb they are, there's always someone dumber.
Overall Rating: 4 (out of 5)
Worldview/moral value: 3.5
Artistic/literary value: 4.5
"Simpleton stories" have always been balanced by wise guy stories. Chapter-book readers will also enjoy Trickster tales. The Infamous Ratsos try hard to be wise guys but continually get tricked into being nice, while The Bad Guys, classic villains, decide to become heroes with mixed results.
We are participants in the Amazon LLC affiliate program; purchases you make through affiliate links like the one below may earn us a commission. Read more here.
Stuck at home? Enjoy our FREE Christian read-along adventure for all ages with lots of book ideas, discussion questions, and more!
Reading Ahead for You
Reviews and Resources Weekly in Your Inbox