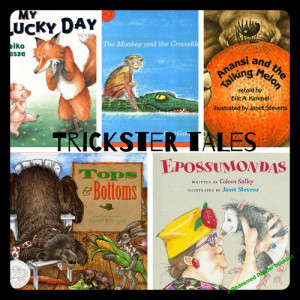 The book of Proverbs is full of instructions for the simple to obtain wisdom and avoid disaster. Stories about tricksters demonstrate common-grace examples of using cleverness to get out of danger, and the consequences of ignoring counsel and finding adversity.
Cleverness is not the same as godly wisdom, but the warnings against laziness and ignoring instruction hold true. Although it is not always necessary to give a moral lesson at the end of a story, these tales may provide memorable illustrations.
Other times, they just spin a good yarn.
Tops and Bottoms by Janet Stevens.
He who has a slack hand becomes poor, but the hand of the diligent makes rich.
He who gathers in summer is a wise son;
he who sleeps in harvest is a son who causes shame.  (Proverbs 10:4-5)
Read review here.

My Lucky Day by Keiko Kasza.
When a pig shows up at a hungry fox's home, it's time for dinner. No, wait!
Complete review here.
The Monkey and the Crocodile 
The Turtle and the Monkey
retold and illustrated by Paul Galdone.
A prudent man foresees evil and hides himself; the simple pass on and are punished. (Prov. 22:3; 27:12)
He who trusts in his own heart is a fool, but whoever walks wisely will be delivered. (Prov. 28:26)

Anansi and the Moss-covered Rock Anansi and the Talking Melon
Anansi Goes Fishing
Anansi and the Magic Stick
retold by Eric Kimmel, illustrated by Janet Stevens.
When pride comes, then comes shame; but with the humble is wisdom. (Prov. 11:2)


Epossumondas by Colleen Salley, illustrated by Janet Stevens.
A wise son makes a glad father, but a foolish son is the grief of his mother. (Prov. 10:1)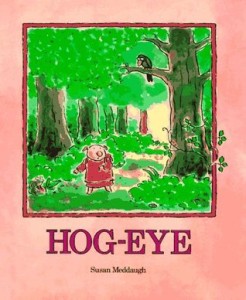 Hog Eye by Susan Meddaugh.
A fool despises his father's instruction, but he who receives correction is prudent. (Prov. 15:5)
Tale of Tricky Fox retold by Jim Aylesworth, illustrated by Barbara McClintock.
What's in Fox's Sack? retold and illustrated by Paul Galdone.
A clever fox seeks to gain a pig by keeping the contents of his sack a secret and then holding housewives accountable for their curiosity.
For more trickster tales, next time you visit the library, explore the 398.2 section. This is where folklore and fairy tales are classified, and there will likely be a good selection of trickster tales and many others. Then come back and share with us in the comments what you have found!
If you're looking for more tricksters on RR, try our Christ in the Anansi Stories, Thinking Through African Mythology, and a favorite April post of yesteryear, our interview with Caldecott Finalist Ima B. Twitt. Cover images from goodreads.
Please follow and like us: