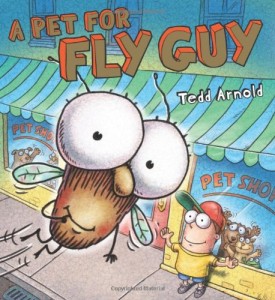 A Pet for Fly Guy by Tedd Arnold. Orchard Books, 2014. 32 pages. 
Reading Level: Early Reader, ages 4-8
Recommended For: Ages 4-8, especially boys
The Fly Guy series is a must see for new readers, particularly boys. Arnold takes the "quirky pet" early reader theme (a la Danny and the Dinosaur or Henry and Mudge) a step further with Buzz and his pet fly, aptly named "Fly Guy." Fly Guy is a genius because he can even say Buzz's name (*groan*). Similar humorous one-liners, playful illustrations, and clever plots effortlessly draw in new readers.
In A Pet for Fly Guy, Fly Guy wants a pet. He and Buzz try out different possible pets: dogs, worms, cats, frogs. In the end, despite rejecting each possibility, Fly Guy lands on the perfect pet. Other titles in the series show Fly Guy acting as super hero, performing tricks, getting swallowed by the "old lady who swallowed a fly," and experiencing various death-defying escapades.
Focusing on such themes as friendship and resourcefulness, the extensive Fly Guy series offers fun, childlike reading, perfect for new readers who need lots of practice.
Cautions: Supernatural (one Halloween-themed volume)
Overall Rating: 4
Artistic Rating: 4.5
Worldview Rating: 3.5
Categories: Early Readers, Boys, Character Values, Humor
cover image from amazon; book from publisher in return for fair review

More than 75 books for children and teens, all about islands, oceans, and more. Bonus: get a free hand-drawn reading tracker!
Reading Ahead for You
Reviews and Resources Weekly in Your Inbox