This fun, award-winning early reader series features two tough siblings who can't help being nice.
The Infamous Ratsos by Kara LaReau, illustrated by Matt Myers.  Candlewick, 2016, 64 pages
Reading Level: Early Reader, ages 6-8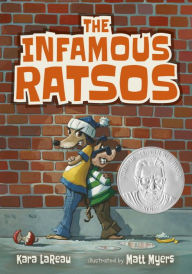 Recommended for: ages 5-8
Big Lou Ratso is tough, tough, tough.  He drives a truck and pours cement and never cries, because crying is for softies.  His sons Louie and Ralphie are determined to be as tough as their dad—no softie stuff like helping the weak and being friends with the friendless for these two!  The best option for a fifth and third-grader to prove their toughness is by mean tricks and pranks.  In each chapter they cook up another eeeeevil scheme, but a funny thing happens: instead of hurting someone their tricks actually help!  And they win praise from teachers and elderly neighbors and other softies—what the heck?!?
The segment of publishing called Easy Reader or Early Reader has produced some clever titles recently—we're a long way from Run, Spot, run.  The Infamous Ratsos is a tongue-in-cheek setup that the earliest of readers can delight in: these guys aren't really mean, and meanness isn't really what they want to be anyway.  There's some mystery about their mom, who "went away" some years ago.  Since they remember her as kind and sweet, I assume she didn't walk out.  So she died?  Maybe Mrs. Ratso's fate will be unraveled in another episode.
The Infamous Ratsos is a 2017 Theodore Seuss Geisel Honor Book.
Overall Rating: 4 (out of 5)
Worldview/moral value: 4
Artistic value: 4
Support our writers and help keep Redeemed Reader ad-free.