This light, quick series-opener will keep reluctant readers reading between the laughs.
The Bad Guys by Aaron Blabey.  Scholastic, 2015, 137 pages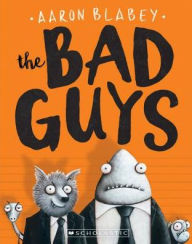 Reading Level: Picture Book, ages 6-8
Recommended for: ages 6-10
Mr. Wolf is unhappy about his reputation and has finally decided to do something about it.  (Of course, that rep might just be deserved, but we're not going there.)  So he invites his fellow baddies—Mr. Snake, Mr. Piranha, and Mr. Shark—to dinner to discuss his plan.  They're going to become good guys!  It's not going to be quite as easy as he thinks, because 1) his friends aren't completely sold on the idea and 2) they still like to eat—maybe even each other.  But goodness prevails, however hilariously, on their first rescue operation.  It even kinda-sorta feels good.  Will it stick?  Watch for further episodes.  Thoughtful readers might think about this: can villains really change by deciding to be "good"?
Also available: The Bad Guys in Mission Unpluckable.  Other titles coming soon.
Cautions: None
Overall Rating: 3.5 (out of 5)
Worldview/moral value: 3.5
Artistic value: 3.5
Support our writers and help keep Redeemed Reader ad-free.