The latest in the You are Not Small series, We Are (Not) Friends is a perfect read for new readers heading back to school.
*We are (Not) Friends by Anna Kang and illustrated by Christopher Weyant. Two Lions, 2019. 40 pages.
Reading Level: Ages 4-8
Recommended For: Ages 4-8
Three's a crowd, as they say. When two best friends are playing, and a third (new) friend joins them, will they automatically form the Three Musketeers? Unfortunately, it seems that someone is always left out. Every adult can picture what comes next: pouting, frustration at the third party (even if he/she was originally your friend), and anxiety.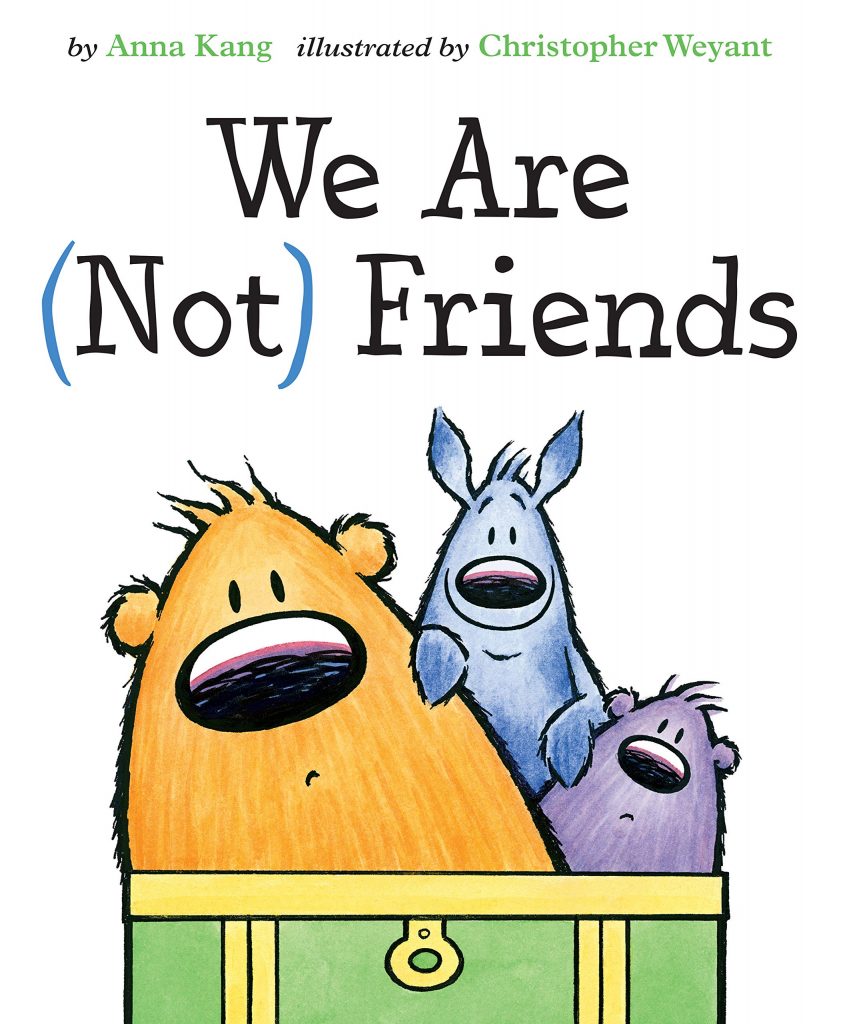 Happily, there is resolution as the three cuddly friends eventually figure out how to play together. A predictable storyline for easy readers, it's no less appealing in this latest iteration. It may interest adults to know that these characters are gender neutral with no names. Each is a different color and size, but otherwise, they are clearly on the same "level" as one another. Rather than detract from the storyline, though, this artistic choice simply affords the story the greatest possible application to any young reader. People are people, no matter how small, as Horton (from Horton Hears a Who) reminds us. As Christians, we would phrase it thus: all people are made in God's image.
Weyant's simple, large illustrations coupled with Kang's simple, straightforward text and plenty of white space make this work equally well as a classroom read aloud or independent read for an introspective new reader. And this particular scenario–new friends joining existing friend groups–will be playing out on repeat in these first few weeks of a new school year!
Considerations:
Consider letting children take turns reading this aloud, one page at a time.
Pair this with other easy readers along the same thematic lines. Two of our favorites are Rabbit and Robot and Ribbit by CeCe Bell and My New Friend is So Fun! by Mo Willems (an Elephant & Piggie book).
Overall Rating: 4.5 (out of 5)
Artistic Rating: 4.5
Worldview Rating: 4.5
Don't miss the other Kang/Weyant books, such as *You are (Not) Small and I am (Not) Scared (scroll down to see this one in the round-up). For more Back-to-School fun, see our Back-to-School Picture Books!
*indicates a starred review
We are participants in the Amazon LLC affiliate program; purchases you make through affiliate links like the one below may earn us a commission. Read more here.
Support our writers and help keep Redeemed Reader ad-free.