*You Are (Not) Small by Anna Kang, illustrated by Christopher Weyant.  Two Lions (Amazon), 2014. 30 pages.
Reading Level: Easy Readers, ages 4-8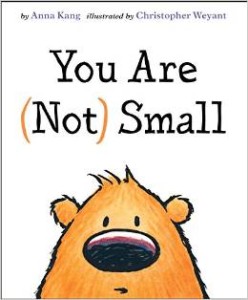 Recommended For: ages 0-4
Bottom Line: Beginning readers will love this confrontation between two hairy creatures that proves size is relative.
You are small, says one bear-like critter to another.  And from the looks of the first page spread, he's right.  But then the little one replies, I am not small.  You are big.  Hmmm.  Can it be that the value of small and big depends on who's talking?  But wait—what if a whole crowd of furry creatures join the larger of the two?  Strength in numbers, right?  They get to call the shots—unless the smaller of the two calls on more legions of his own. You Are (Not) Small won this year's Theodore Seuss Geisel Award, given annually by the American Library Association to excellence in books for early readers.  With a vocabulary of about 25 words and clever illustrations by a New Yorker cartoonist, it accomplishes three goals: engaging young minds with humor, building confidence in beginning readers, and presenting an idea to think and talk about.
Cautions: none
Overall Rating: 5 (out of 5)
Worldview Rating: 4
Artistic Rating: 5
Categories: Starred Review, Easy Readers, Concept Books, Award Winners
Cover image from Amazon

Support our writers and help keep Redeemed Reader ad-free.