A new nonfiction series features puzzling and deadly cases cracked by the FBI.
FBI Files: the Unabomber by Bryan Denson. Roaring Brook, 2019, 140 pages + index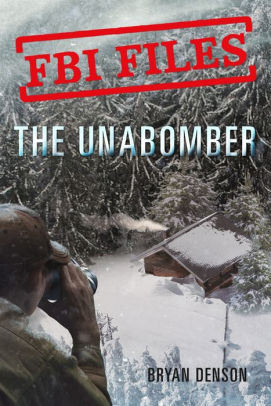 Reading Level: Middle Grades, ages 10-12
Recommended for: ages 12-15
"True Crime" is one of the most popular genres in adult publishing, but not so much in children's, for obvious reasons. The deep dive into a criminal psyche can't be pleasant, and is often disturbing. The first volume in this new nonfiction series focuses on the task force that tracked and finally captured Ted Kaczynski, the reclusive misanthrope who mailed or placed sixteen bombs to unsuspecting victims over eighteen years. From an amateurish start in 1975, the "Unabomber" grew more sophisticated and elusive, but it was his own vanity that brought him down. When he insisted that his 30,000 word manifesto be published in the Washington Post and the New York Times, law-enforcement professionals argued against giving the terrorist what he wanted. But the task force took a risk, and publishing the manifesto provided the final clues they needed to crack the case.
The narrative centers on Agent Kathy Puckett, the psychology expert, but other agents get plenty of credit as well. Their dogged persistence, year by year, to bring a clever, ruthless culprit to justice is clear from this well-researched, fast-moving true story.
Considerations:
Descriptions of some of the bombings, though brief, may be too intense for sensitive readers
There is one incident of quoted mild cursing
Overall Rating: 3.75 (out of 5)
Worldview/moral value: 3.5
Artistic/literary value: 4
Please follow and like us: