By their wacky misunderstandings, the "Invention Hunters" help kids understand basic principles of applied science.
The Invention Hunters Discover How Machines Work by Korwin Briggs. Little, Brown, 2019, 48 pages.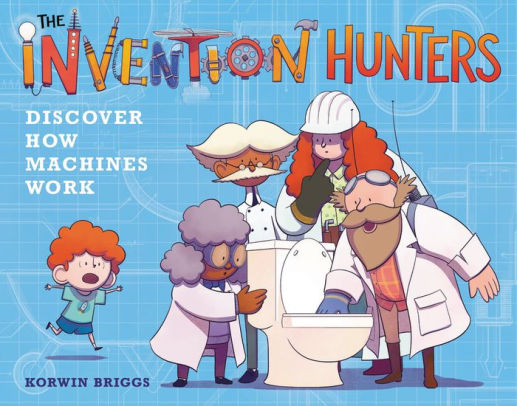 Reading Level: Picture Book, 4-8
Recommended for: ages 5-8
Our nameless protagonist is out for a walk when four "invention hunters" rappel down from their floating Museum of Inventionology. Though dressed in official-looking lab coats, the hunters seem to be from another world entirely, since they don't know the first thing about technology this world. They are eager to search out the nearest construction site (where the workers, apparently, are enjoying a day off). Their speculations about wheelbarrows, jackhammers, cranes, and dump trucks are hilariously off-kilter, but our protagonist can set them straight about the simple mechanical principles involved, such as leverage, pulleys, and hydraulics. Whether the invention hunters learn the lesson is another matter, but K-3rd-graders will enjoy outguessing them. A companion volume, The Invention Hunters Discover How Electricity Works, is available now.
Overall rating: 4 (out of 5)
Worldview/moral value: 3.5
Artistic/literary value: 3.5
We are participants in the Amazon LLC affiliate program; purchases you make through affiliate links like the one below may earn us a commission. Read more here.
Support our writers and help keep Redeemed Reader ad-free.