Rabbit and Robot's friendship is tested when a new friend, Ribbit, enters the scene in this funny easy reader.
Rabbit & Robot and Ribbit by CeCe Bell. Candlewick Sparks, 2016. 48 pages.
Reading Level: Easy reader, ages 4-8
Recommended For: Ages 4-8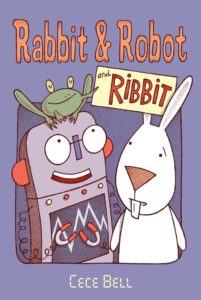 Rabbit thinks she'll sneak over and surprise her best friend, Robot. But Robot has another friend over, Ribbit. And they are playing checkers, a two-person game. Finally it's time to watch TV, but Robot has made popcorn with flies in it! Because Ribbit likes flies! Gross. Emotions begin to run hi, and suddenly Robot overheats. Oh no! What's a friend–or two friends–to do?
In Rabbit and Robot: the Sleepover, Bell deftly handled the emotions of friendship in a wonderfully accessible easy reader text. Rabbit & Robot and Ribbit is a little clunkier in theme, but Bell's reminder that we can add friends into an existing friendship circle is a good one. Her humorous lesson on "engrossed" is a fun one, too. New readers who spot the subtle change in Ribbit's speech earn bonus points from me! Be sure to watch for it.
Cautions: none
Overall Rating: 4.5
Artistic Rating: 4.25
Worldview Rating: 4.75
For other easy reader series about the ups and downs of friendship, be sure to check out the Elephant & Piggie books and the classic Frog & Toad books.
More than 75 books for children and teens, all about islands, oceans, and more. Bonus: get a free hand-drawn reading tracker!
Reading Ahead for You
Reviews and Resources Weekly in Your Inbox