Is your child keenly aware that a new Jurassic Park movie is hitting the big screen this week? As if kids needed more motivation to be interested in dinosaurs!
Not to fear, we've got you covered: a dinosaur book list! Check out some of these fun books for a dinosaur-themed reading experience this summer, no matter what age kids you've got at home. You might even enjoy some of these yourself!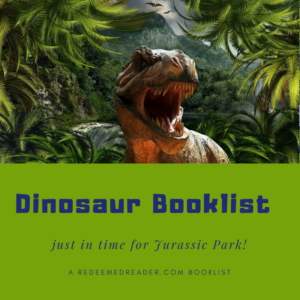 Dinosaur Booklist for All Ages
Tea Rex by Molly Idle. What happens when you invite a dinosaur over for tea? Ages 0-8
Danny and the Dinosaur by S. D. Hoff. An easy reader classic and one that shouldn't be missed! Ages 4-10
The Dinosaurs of Waterhouse Hawkins by Barbara Kerley and illustrated by Brian Selznik. A true story about the man who dazzled the Victorian world with replicas of dinosaurs. Ages 4-10.
Edge of Extinction Series by Laura Martin. An intro to dystopian fiction… with dinosaurs! Ages 8-12.
Tommysaurus Rex by Doug TenNapel. Graphic novel with emotional heft, perfect for a fun middle grades read this summer. Ages 10-14
The Lost World by Sir Arthur Conan Doyle. The literary classic that clearly leads up to Jurassic Park; not without cautions–review coming! Ages 10-up.
Dinotopia, A Land Apart from Time by James Gurney. Part coffee table book, part mystical and fantastical story, this is perfect for those who love fantasy stories AND dinosaurs. Ages 10 and up.
Jurassic Park by Michael Crichton. Gritty for sure: read review and proceed with caution. Ages 15 and up.
What is YOUR favorite dinosaur book?
More than 75 books for children and teens, all about islands, oceans, and more. Bonus: get a free hand-drawn reading tracker!
Reading Ahead for You
Reviews and Resources Weekly in Your Inbox