Tommysaurus Rex by Doug TenNapel.  Scholastic (Graphix), ask 2013.  238 pages. 
Reading Level: Middle grades, ages 8-10
Maturity Level: 3 (ages 8-10) and up
Bottom line: This graphic novel's humor and lively drawing style are made-to-order for middle-grade boys, but it also deals thoughtfully with important themes. 
Ely's best friend is a dog, which seems pretty normal except that Tommy (the dog) is his only friend.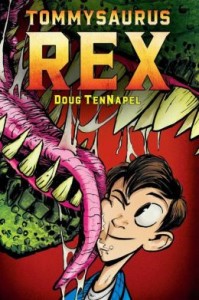 Ely's parents worry about this, but worry takes a back seat when Tommy is hit by a car.  To help Ely get his mind off the grief, his folks send him to stay at Grandpa's farm where steaks come with the territory and he can drink all the root beer he wants.  There's work involved too, but after a few days of aches in hitherto-unsuspected muscles, Ely can handle that.  What he can't handle is Randy, the neighborhood bully.  After Randy smears his face with dog poop, Ely finds the perfect instrument of revenge: a real, live Tyrannosaurus Rex, who was apparently hibernating in a cave on the farm for the last few eons. 
Except for his inconvenient size, Rex is a great pet: friendly, playful, loving—and terrified of fire.  There's a reason for this, and a reason why Randy is a jerk, and a reason why Tommy was taken—all to be revealed in TenNapel's gripping graphics style and lively color.  Boys will love it, not least because of its frank exposition of the dinosaur digestive process.  But also for the heartfelt themes of fatherhood, forgiveness, and friendship.  The story goes where we don't necessarily want it to go, but it's hard to think of any other way it should end.  If your kids read it, alternate endings would be an interesting discussion topic.
Also by this author: Ghostopolis and Cardboard.
Cautions: Mild Vulgarity (potty humor), Sad Situations
Overall value: 4.5 (out of 5)
Worldview/moral value: 4.5




Artistic value: 4.5
Categories: Graphic Novel, Fantasy, Middle Grades, Life Issues, Starred Review
More than 75 books for children and teens, all about islands, oceans, and more. Bonus: get a free hand-drawn reading tracker!
Reading Ahead for You
Reviews and Resources Weekly in Your Inbox