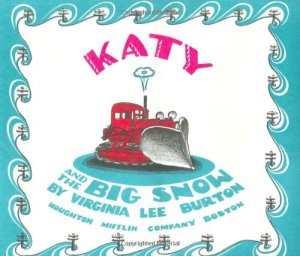 Katy and the Big Snow by Virginia Lee Burton. HMH Books for Young Readers, 1943. 40 pages.
Reading Level: Picture Books, ages 4-8
Maturity Level: 1, 2 (ages 0-4, ages 4-8)
Only Virginia Lee Burton could craft as lovable a tractor-pushing-snowplow as Katy. Although she pushes a bulldozer in the summer, the focus of the book is on Katy's untiring hard work on behalf of the town of Geopolis during a winter snowstorm. Given the intense snow we've already seen this winter, new readers will appreciate Katy's effort anew. Burton fills the pages with so many interesting elements: a crash course in orienteering and using a compass, information on different types of vehicles, mention of many "community helpers," weather, seasons, and the passage of time. In fact, Katy and the Big Snow is a perfect kindergarten book. The text will offer sufficient challenge for advanced readers at that age, but it also works as a read aloud.
See also our celebration of Virginia Lee Burton here, and reviews of Choo-Choo, Mike Mulligan and His Steam Shovel and The Little House
Cautions: none
Overall Quality: 4.5
Moral/Worldview Value: 4.5
Artistic Value: 4.5
Categories: Classics, Picture Books, Character Values, Seasons
cover image from amazon
Please follow and like us: