*The Little House by Virginia Lee Burton. Houghton Mifflin, 1969. 44 pages.
Reading Level: Picture Books, Ages 4-8
Recommended for: Ages 4-8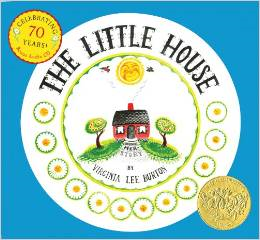 A little house living out in the country is curious about life in the big city. She observes the seasons, the playing of children, and the passage of life going on around her. Little does she imagine that the growing metropolis will gradually swallow up her beloved hillside view of apple trees and stars and finally crowd in beside her until she becomes a dilapidated, abandoned, broken-down house. "Everyone and everything moved much faster now than before." But she is a sound, well-built little house, and all hope is not lost.
Burton's nostalgic writing has resonated through generations of readers. Her pictures are so broad and sweeping that there is always something to look at both in the illustrations and in the text design. Study the details, and you will find greater pleasure and richness in the story. A favorite of many, it's a book worth owning and reading over again.
See also our celebration of Virginia Lee Burton here, and reviews of Katy and the Big Snow, Mike Mulligan and His Steam Shovel, Choo-Choo and The Little House.
Cautions: none
Overall Value: 5 (out of 5)
Moral/worldview value: 5
Artistic value: 5
Categories: Picture Books, Starred Review, Classics, Retro Reads, Older Books, Living Books, Award Winners
Cover image from amazon.
*indicates starred review
Please follow and like us: