The Orphan and the Mouse by Martha Freeman, drawings by David McPhail. Holiday House, 2014, 220 pages.
Reading Level: Middle Grades, ages 10-12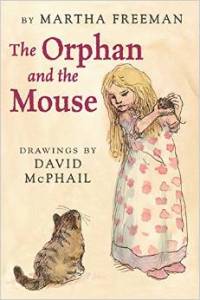 Maturity Level: 3 (ages 8-10)
One-line Summary: The Orphan and the Mouse is a good-natured animal fantasy for middle-grade readers or a family read-aloud.
The mouse residents and the human residents of Cherry Hill Children's Home usually manage to avoid each other, but lately Chief (mouse) Director Randolph and his cronies have developed a taste for art (postage stamps, in the human world) and clever mice of unusual speed are dispatched to steal it from the desk of Mrs. George the headmistress. Mary, a resourceful little rodent, is the latest art thief, and a mission that could have ended tragically brings her to the attention of young Carolyn McKay, an orphan who finds no creature too small to warrant her kindness. Caro is not a pretty child, But darnit, she was good. Too good, the other intermediates claimed—too studious, too obedient, too nice, even; entirely lacking in spunk.  The meeting will soon prove to be propitious, for there's some shady business being transacted by Mrs. George, and before long Caro and Mary will be in a position to help each other.
This is a gentle, unassuming fantasy on the order of Stuart Little whose exploits (overheard by the mouse colony as they listen in on read-alouds) are legendary. Some plot points could have been developed further, and Mrs. George's criminal activity (she steals babies for people who can afford them) seems a bit jarring for the target age.  The vocabulary may also be a little advanced, but the story comes to a satisfying end with some thoughtful observations on art: [P]ictures enlarge the view, reveal the possibility of worlds we never suspected. Even the pictures that aren't beautiful make us curious, they make us wonder. And the lilting language makes this a good read-aloud. The obvious comparison is to E. B. White and the aforementioned Stuart Little, but The Rescuers also comes to mind.
Cautions: Character issues (one minor character is an unwed mother)
Overall Value: 4 (out of 5)
Moral/worldview value: 3.75
Artistic value: 4
Categories: Fantasy, Animal Stories, Middle Grade, Read-Alouds, Character Values
Cover image from Amazon

Please follow and like us: