This book is a "Best of the Best" pick from ourWinter Book Fair. CLICK HERE to see more gift ideas!
*Choo Choo: The Story of a Little Engine Who Ran Away by Virgina Lee Burton. Houghton Mifflin, 1964. 48 pages.
Reading Level: Picture Books, ages 4-8
Maturity Level: 1, 2 (ages 0-8)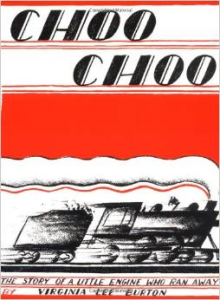 With striking charcoal illustrations so appropriate to a story about a steam train, Virginia Lee Burton tells about Choo Choo, a little train who is tired of his responsibilities. He wants freedom to be out on his own so people can see how smart, fast, and beautiful he is. One morning he sneaks away from the engineer, fireman, and conductor who love and care for him and races down the tracks. Of course he causes more trouble than he can handle, and the three men come looking for Choo Choo to bring him home.
Full of onomatopoeia and lively visuals, this is a treat to read. Choo Choo is likely to resonate with any child who strays off the right track and needs loving restoration. Although not a Christian story, there are subtle hints of Psalm 23 without any didacticism, and the narrative is well told. A lovely book.
See also our celebration of Virginia Lee Burton here, and reviews of Katy and the Big Snow, Mike Mulligan and His Steam Shovel and The Little House.
Cautions: none
Overall Value: 5 (out of 5)
Moral/worldview value: 5
Artistic value: 5
Categories: Picture Books, Starred Review, Classics, Retro Reads
Cover image from amazon.
*indicates starred review