This book is a "Best of the Best" pick from ourWinter Book Fair. CLICK HERE to see more gift ideas!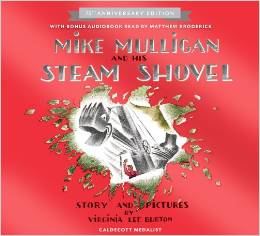 Mike Mulligan and His Steam Shovel by Virginia Lee Burton. HMH, 2014 (originally published 1939). 56 pages.
Reading Level: Picture Books, Ages 4-8
Maturity Level: 1, 2 (ages 0-4, 4-8)
Beloved Mike Mulligan and his trusty steam shovel, Mary Anne, turn 75 years old this year, and, rather than showing their age, Mike and Mary Anne continue to delight new readers. The famous duo demonstrates that friendship, hard work, and a cheerful attitude ensure that no one is obsolete. Mary Anne's fellow steam shovels are quickly being relegated to junk yards as progress and gas and diesel engines take over; still, Mike boldly maintains that Mary Anne can "dig as much in a day as 100 men can dig in a week!" Sure enough, with the townspeople of xx cheering them on, Mike and Mary Anne dig the basement of the new town hall in one day! The twist at the ending is perfect. Burton's text has just the right amount of repetition to delight young listeners as well as to reassure newly independent readers. The cheerful illustrations provide much in which to delight. Mike Mulligan and His Steam Shovel is a great choice for both preschoolers and those just learning to read on their own. In addition to the special anniversary edition pictured (which includes a bonus audio version to download), a travel edition with bonus post cards is still available.
Cautions: none
Overall Quality: 5 (out of 5)
Moral/Worldview Value: 5
Artistic Value: 5
Categories: Gift Books, Picture Books, Classics, Character Values, Starred Review
cover image from amazon
Please follow and like us: