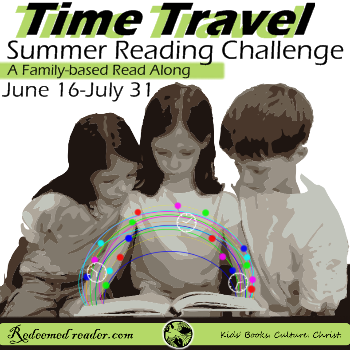 Other Summer Reading Challenge posts: Introduction,
Week One: 1) Kids, 2) Teens, 3) Devotional. 
Week Two: 1) Kids, 2) Teens, 3) Devotional. 
Week Three: off
Week Four: 1) Kids. 2) Teens, 3) Devotional.
Week Five: 1) Kids, 2) Teens, 3) Devotional.
Week Six: 1) Kids, 2) Teens, 3) Devotional.
***PLEASE NOTE: WE HAVE ADDED A NEW BOOK FOR LIST #1 and CHANGED READING LIST #2. ***
ALSO, THE FIRST GIVEAWAY OF BOOKS IS NOW OVER, BUT PLEASE CONTINUE TO SIGN UP FOR OUR READING CHALLENGE BELOW. 
Travel Through Time with Us!
Ready to have some fun this summer with your kids…and grow closer to God and one another?  Then welcome to our Summer Reading Challenge!  This year, we're combining all ages into one big summer reading event with the same theme: Time Travel.
The read along will be divided into two reading lists: 1) For ages 9-12 or the entire family, and 2) 12 and up.  That means we hope your family–whatever their ages–will appreciate the time traveling we do together, and that the journey will help you and your kids grow closer to God and each other.
When?
June 16-July 25, 2014
Why Time Travel?
Time was created by God, is upheld by God, and even now is being redeemed for His purposes.  Many of the stories we'll read this summer will involve the excitement of visiting another age.  Often, heroes and heroines will be given the dramatic task of saving the innocent or redeeming wrongs of the past.  As we read, we'll explore how all that drama relates to why God created time, and what it means for us as created beings.
Plus, while we're exploring Jesus as Time Maker, Time Traveler and Time Redeemer, we'll also do some time traveling ourselves!  On the first week of our read along, we will create a Time Capsule to open at the end of the summer.  No hints yet as to what we'll put in it, but we think your kids will have a lot of fun…and learn about God in the process.
Who's Coming With Us?
1. In addition to the regular RR crew, we've once again invited Gina Dalfonzo of Breakpoint Youth Reads to join us in the adult-teen part of the challenge.  She'll be reading along with me and two young adults (to be announced later) as we discuss each book.  Gina is a wonderful critical reader and very practiced at bringing a Christian worldview to bear on literature, so we're very happy to have her aboard!
2. We are also thrilled to announce that Jeff Baldwin of Worldview Academy will be stopping by to talk to us about time travel and how it relates to the Christian worldview.  Jeff regularly uses literature as a spring board to reach minds and hearts with the truths of Scripture, so be sure to check out his reading resources here.
THE READING LISTS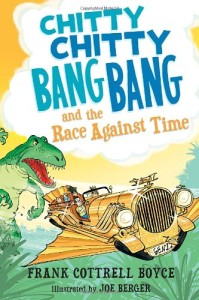 Reading List #1: For Ages 9-12…Or the Whole Family

We've chosen this list for the 9-12 age group.  However, any age is welcome to read along.  We know many of you have younger kids who read above grade-level, or you may have older kids who just aren't ready emotionally or otherwise for the teen choices.  Rest assured, all are welcome here!  In the case of younger readers, we just ask that you take a quick glance at the plot summaries and maybe even a few reviews on Amazon, just to make sure the level of action or themes won't be too mature for them.  The goal of this list was to choose books that will entertain and benefit the entire family.  (And except for Rush Revere, which is admittedly kid-candy with an educational twist, I think we've done that!)
Week Three–off for July 4th
(On the Blue Comet by Rosemary Wells was our original choice here.  But we recently realized this book has numerous curse words, so we apologize for including it in our list.  If you have already bought the book, Janie gives an explanation and list of page numbers to black out the curse words here. Otherwise, we'd invite you just read our alternate for this week.)
NEW Reading List #2: For Ages 12 and up 

Please note: as of 6/6/14, this list has changed.  We originally chose several books that we decided were not right for summer reading.  Please CLICK HERE to read more about that.  We are deeply sorry for any inconvenience this may have caused you, and we encourage you to click above to read our reasons.   Although we hope this new list is much better suited for our younger teen audience, please keep in mind: this list is intended for teens and may not be suitable for younger children, and some younger teens may prefer to skip these and read the books in Reading List #1.   We would encourage you to consider your child, check out the reviews on Amazon, and even read a few pages if you feel any doubt about your teen reading them.
SIGN UP & WIN PRIZES
We'll be running a number of contests and giveaways over the course of the reading challenge, which we will announce later.  To be entered to win, we just ask that you sign up in the comments below.  Don't put your email in the text box, by the way, which would make it public!  Just enter your email it in the small field where it prompts you in the comments, and if you like, tell us the book your most looking forward to reading in the text box.  (We promise to keep your address safe and not to share it with anyone else.  Promise.  Not even my grandma.) Once you've signed up, we'll send you weekly or biweekly emails to help you keep up with the read along and have access to all the latest read along fun.
THE CHALLENGE?
What's the challenge?  Simply read three books from the lists above.  At the end of the read along, you'll have a chance to tell us how many people in your family completed the challenge.  Everyone who reads three books will be entered to win the grand prize of a $100 Amazon gift card.  The winner will be chosen at random, and second and third place winners, also chosen at random, will receive $30 gift cards each.
And don't worry, we will have some merit-based writing contests during the reading challenge, so you'll have a shot at winning prizes those as well.  But we hope that at the least you'll set your sights on reading three or four (or more!) of the books in our reading lists.
Last But Not Least: The Devotional
There is one other element to this read along that we think is special: our time travel devotional.  Each week as we talk about the books on our list, we'll also provide you with time travel related Bible readings, and questions to help you think through the theological implications of the books we read.  We'll also include one very special activity–making a family or personal time capsule, which we will open at the end of the summer!
So, that's the plan!  We hope you'll join us in our time travels this summer!  And we hope you'll tell your friends about this free summer reading resource.  Read, pray, learn…as we travel through time together!

GIVEAWAY:An entire set of books!

***Please note this part is over…but many more prizes to come!***

I thought we'd start the fun by offering a free set of books to one of the families that signs up this week.  Sign up below by Monday morning, June 2, at 8 am Central Time, and you'll be entered to win all the books from either Reading List #1 or #2!
Reading List #1: For Ages 9-12 or The Entire Family
Reading List #2: For Ages 12 and up
Support our writers and help keep Redeemed Reader ad-free.
116 Comments