On the Blue Comet, by Rosemary Wells. Candlewick, 2010, 329 pages. Reader age 9-13.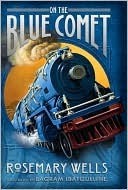 Even though Oscar's Ogilvie's mother is dead, he and his dad have a pretty good life in Cairo, Illinois, including quality time with a Lionel train layout in the basement. One problem: it's 1929, and there's something called the stock market crash right around the corner. When the Depression hits, Dad loses his job and train-hops to California to find work; the basement layout is sold for display at the local bank, and Oscar has to move in with his carping Aunt Carmen. But he also befriends Mr. Applegate, a former math teacher now working as night watchman at the bank. Oscar can sneak over anytime after dark and play railroad to his heart's content.
But one night, two thugs break into the bank while Oscar is there. They shoot Mr. Applegate, who barely has time to shout, "Jump!" before collapsing on the floor. Oscar jumps onto the layout–and finds himself O-scale size, riding the actual real-time version of the Blue Comet Special, bound for the west coast. Before he can fully wrap his head around what's happened, he's sharing a berth with a pleasant, good-looking young college man who introduces himself as "Dutch." Dutch will become Oscar's best friend on his coast-hopping, time-twisting adventure.
The mechanics of time travel aren't too well explained, but it has something to do with relativity: where Oscar is in time depends on where he is in space. But in tone, appearance, and character, On the Blue Comet is straight out of the 1950s. Any book that begins with Kiplings "If" and features Ronald Reagan in a strong supporting role (it's his 100th birthday today) has to be worth a look, and while the nostalgia factor of Lionel Trains may be lost on 21st-century kids, the magical elements and swift pacing will get them interested after a rather slow start. The full-page, full-color illustrations by Bagram Ibatoulline have an N. C. Wyeth-quality about them, capturing the ambiance of passenger trains and Depression-era America. The author also has a lot of fun with historical figures who aren't quite identified (besides Reagan, there's Alfred Hitchcock, Nelson Rockefeller, Joseph P. and young Jack Kennedy), but her interpretation of history is a bit clichéd: FDR as the Man who Ended the Depression, for instance. Marred by some mild profanity (if there is such a thing as "mild" profanity) of the "What in God's name" kind, but intriguing and at times beautifully written.