One of the most common questions I get when people learn of my profession is a variation of the following,
My child is a precocious reader and devouring chapter books–and she's only 7! [or 5 or 6] What is okay for her to read at this young age?
If your daughter falls into this camp this summer, and you're looking for a sweet series for her to read, look no further! While the subject matter in these books sounds very middle grades, the books have a sweet, younger "feel" to them. The series is charmingly illustrated.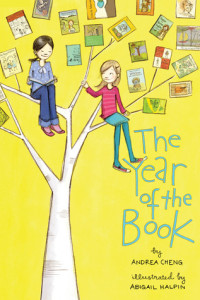 The Year of the Book by Andrea Cheng and illustrated by Abigail Halpin. HMH Books for Young Readers, 2012. Age/interest level: 7-11.
We meet Anna Wang–in fourth grade–in this book: she is an avid reader and is more comfortable with her books than with real people. She reads widely, and young readers who are also well read will enjoy recognizing the many books referred to in the story (and in the illustrations!). Anna learns to be a friend in real life (not just in books) as she helps her friend Laura grapple with her parents' marriage issues. This is definitely background information that affects the plot, but the central focus is on Laura and Anna's relationship (and Anna's relationships with others, such as her mom). Anna is also wrestling with her Chinese American identity in this quiet book about learning to accept yourself and those around you. Bonus: Anna loves to sew, and this book includes a pattern for a simple drawstring bag.
The Year of the Baby by Andrea Cheng and illustrated by Patrice Barton. HMH Books for Young Readers, 2013. Age/interest level: 7-11.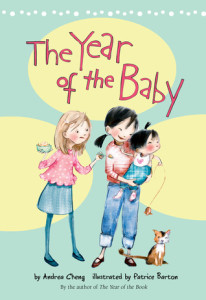 Book two finds Anna in fifth grade and with a new baby sister: her parents have adopted a baby girl from China named Kaylee. In this second book, Anna must come up with a science fair project, help her parents care for Kaylee, and navigate the murky waters of friendship. Anna and her friends come up with a very unique–and important–science fair project that impacts Anna's family significantly, especially Kaylee. Although Anna herself is Chinese, she is ABC–American born Chinese. She even goes to Chinese school on Saturdays to learn Chinese. Her new sister is Chinese born. Anna learns to deflect unintentional racism as everyone assumes she and Kaylee are real sisters or "look alike" simply because they are both Chinese. Families who have international adoption experiences and/or friends who have adopted internationally will appreciate a chapter book that deals sensitively with this issue. Bonus: there's a recipe for red bean paste steamed buns (my family LOVES these!).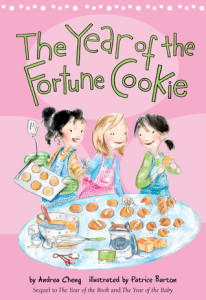 The Year of the Fortune Cookie by Andrea Cheng and illustrated by Patrice Barton. HMH Books for Young Readers, 2014. Age/interest level: 7-11.
This most recent installment of Anna Wang's adventures is the strongest of the three. Anna has matured and is now in sixth grade. She is still wrestling with similar friendship issues as those in the first two books, but in this one, her angst over her dual cultural identity is front and center. Anna gets the opportunity to visit China with her former teacher, Ms. Sylvester, when the Sylvesters go to China to pick up their adopted baby girl. Anna gains independence in China as well as an increased understanding of and appreciation for her own Chinese heritage. The "fortune cookie" in the title refers to a fortune cookie bake sale project Anna undertakes as well as the pretend fortunes she and her friends write for one another (these are "sweet" fortunes along the lines of having a good day). This book also includes a recipe for making your own fortune cookies!
All in all, this is a series to watch. Anna is a very likable young girl and has very real struggles with being a friend, loving her friends and understanding them even when they're different from her, and learning to see her family as individuals. She's also learning to appreciate her own cultural heritage even when it's different from the majority of her classmates. A delightful series for the long summer days ahead. If you read these with your daughter, be sure to talk about the ways in which we unintentionally hurt others' feelings, the ways in which we can share the love of Christ with our friends–particularly when that means loving them in their unloveliness, and the ways we can learn about and appreciate those within our own family. While not a Christian series, Cheng's books cover sensitive topics in a way we can appreciate.
For another illustrated chapter book series that is a geared to a younger audience, see our review of Hilary McKay's Lulu books.
More than 75 books for children and teens, all about islands, oceans, and more. Bonus: get a free hand-drawn reading tracker!
Reading Ahead for You
Reviews and Resources Weekly in Your Inbox