Welcome to Week 6!  Time doth fly . . .

We started out with The Blue Comet as our book for this week, but due to some issues with content, we've decided to focus on this title (see explanation here).  We didn't want to leave anyone hanging, though, so we'll address The Blue Comet tomorrow in case you've already invested time and money in the story.  But for today, come along with us to 17th-century Germany…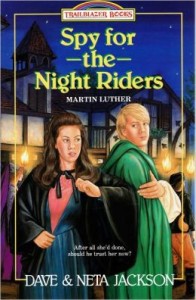 Of all the events in world history, the Protestant Reformation is considered by many historians to be in the top five—especially for Europe and America. The man at the center of the Reformation ("center," because there were many reformers before and after) is Martin Luther. Spy for the Night Riders pictures Luther at probably the most dramatic event of his life.
Our narrator for this story is Karl Shumacher, a young teen who has come to know Luther personally and shares in many of his adventures. As you read (or as the story is read aloud), put yourself in Karl's place and think about how you would respond to the situations he finds himself in. How much did he volunteer for? How much is he not expecting and would just as soon skip? Where do you find yourself admiring or disagreeing with him?
And here's another idea to consider: the theme of trust comes up often in this story. As you read, think about how Karl learns to trust or not trust other people. Sometimes it's not easy to know! How do you decide whom to trust, or do you give much thought to that at all?
One last point: when you pick up a book of historical fiction, the author will often include a preface or a note at the end. Don't skip these! You may find out which of the events narrated in the story actually happened and which characters actually lived. You'll put the book down knowing a lot more history than when you started, and it was mostly painless!
Caution: This story begins with a description of a reformer being burned at the stake.  Some families, especially those with younger kids, may want to skip that first chapter.  But for most kids, the story will probably be an eye-opening look at what some heroes of the faith have been through on Christ's behalf.
A note on the text: I used a Kindle version of Spy for the Night Riders (only $2.99 at Amazon!) so I can't give page numbers in the discussion questions below.
Discussion Questions (I know, there are a lot! Pick four or five that interest you.)
1. Spy for the Night Riders begins with a very dramatic scene. Why do you think the authors started their story this way? Does it make you eager to read on?
2. Karl tells this story. Is he also the "spy" of the title?
3. Karl doesn't talk much about his personal faith. What can you tell about his beliefs from the way he narrates the story and the details he includes?
4. "Preach the word; be instant in season, out of season; reprove, rebuke, exhort with all longsuffering and doctrine" (ch. 9). Where is this found in the Bible (use a concordance or search engine)? Who is saying it to whom? How does Luther embody this command?
5. Why is Luther so popular? Who likes him and who doesn't?
6. How does your opinion of Casper Sturm change in the course of this story? Or does it?
7. In Chapter 5, as Luther approaches Worms (pronounced something like voormps, not like the squiggly things in the garden), he becomes uneasy: "It's too much like Christ's triumphal entry into Jerusalem." What does he mean by this? What's the comparison? How is Luther's apprehension borne out?
8. Here's a big fancy word to learn: anachronism. It refers to something that's shown or heard out of its time, like showing George Washington with earbuds, listening to an iPod. Most historical novels have them, including Spy for the Night Riders, particularly with language. For instance: "Eck wouldn't miss the chance to stick it to me publicly" (ch. 2) and "To be where the action is" (ch. 4). Those are both 20th-century American expressions, and to some readers they're no big deal—the historical characters would have been speaking German, anyway! Do you think it's okay to include anachronisms in a historical novel, or would you rather the language sound a little "older"? How might you rephrase the examples above to make them sound closer to their time?
Tomorrow, check in for our look at On the Blue Comet!
Reading Ahead for You
Reviews and Resources Weekly in Your Inbox