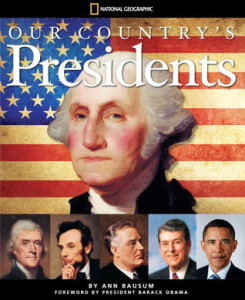 Presidents' Day is one of those weird little holidays: school children rejoice in their day off, and lots of people don't give it another thought. Lincoln and Washington both have birthdays this month, but we thought we'd broaden our focus on this list to include the Presidents in general and a couple in particular. Below, you will find links to earlier Presidents' Day-related posts here on RR. And don't forget about such classic titles as the D'Aulaires' Abraham Lincoln and Fritz's George Washington's Breakfast. Before jumping into our little list, let me remind you that there is always bias in any work; when we look at political subjects, though, there is often a lot of bias. Read discerningly!
America the Beautiful: Together we stand by Katherine Lee Bates. Orchard Books, 2013. Age/interest level: 5-9.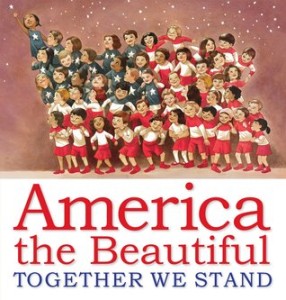 Taking the text of "America the Beautiful," adding illustrations for each line by today's best illustrators, and interspersing famous quotations from various Presidents, this is a celebration of America's diversity. Illustrators represent a diverse group in and of themselves, and that is clearly the point of this picture book. I appreciated that quotations are from a nice cross section of Presidents, both Republican and Democrat, past and present. Read discerningly–and enjoy the pictures!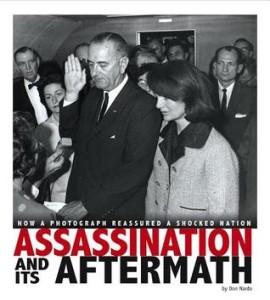 Assassination and Its Aftermath: how a photograph reassured a nation by Don Nardo. Compass Point Books, 2014. Age/interest level: 9-12.
A very interesting account of how four men came to be in a particular point in history that was immortalized in a famous photograph. Nardo looks at Oswald, Kennedy, Johnson, and the photographer himself. Nardo also examines the impact of this photograph in its pre-digital world. No mention of God's sovereignty, but that is an easy tie-in when the four men's lives are considered together.
The House that George Built by Suzanne Slade and illustrated by  Rebecca Bond. Charlesbridge, 2012. Age/interest level: 5-9.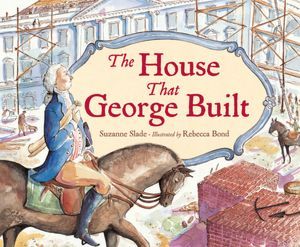 In the same rhythm as "The House that Jack Built," this picture book looks at the building of the White House. Illustrations and an occasional text reference allude to the slaves that were present as well as the free men. Interesting details (such as the leaky roof) are also present. A fun take on a study of Washington and the Presidential home.
Our Country's Presidents: all you need to know about the Presidents, from George Washington to Barack Obama by Ann Bausum. National Geographic. Age/interest level: 9-12 (and up!).
This hefty tome is a great reference tool for learning about the different Presidents along with key issues in various time periods (i.e. women's right to vote, White House traditions, kids in the White House, political parties, etc.). There are numerous portraits of the Presidents, photographs, and other visuals. Each President is granted several pages, multiple photographs/paintings, and a handy facts summary. We haven't read every word, so read discerningly. Still, this looks like an outstanding reference. (cover pictured above)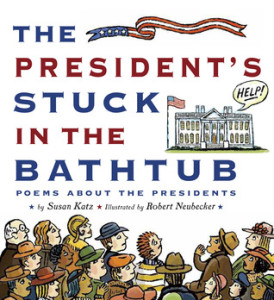 The President's Stuck in the Bathtub: poems about the Presidents by Susan Katz and illustrated by Robert Neubecker. Clarion, 2012. Age/interest level: 6-12.
Poor President Taft. Surely there is more to his story than this fateful event! Other fun trivia lurks in the various poems within this book, often hilariously illustrated (i.e. what did Abraham Lincoln use that famous top hat for?). Look for this when you want a little something different.
So You Want to Be President? by Judith St. Martin and illustrated by David Small. Philomel, 2004 (orig. 2000). Age/interest level: 5-9. **look for the updated versions**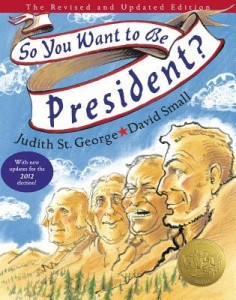 A charming look at the quirks and commonalities of our nation's Presidents. Instead of examine each President, quirky commonalities are examined together (i.e. the Presidents who all had "George" in their name). Caricature illustrations in the style of political cartoons add to the spirit of the jaunty text. A great resource for a fun overview of the Presidents.
To Dare Mighty Things by Doreen Rappaport and illustrated by C. F. Payne. Disney-Hyperion, 2013. Age/interest level: 5-9.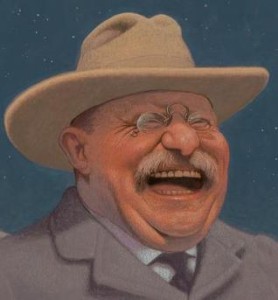 Teddy Roosevelt's boisterous approach to life comes through loud and clear in this picture book biography. As with any picture book biography, there are lots of events and thoughts left out; the author does provide a helpful timeline and lists of further resources in the back matter. Note that in any biography of a political person, there is bound to be bias. Read discerningly. Yet this is a worthy book to peruse (illustrations alone are worth checking this book out!). Of possible interest as a companion picture book is What To Do About Alice? by Barbara Kerley and illustrated by Edwin Fotheringham (about Roosevelt's daughter). Rappaport has written other picture book biographies of various Presidents, too.
For other Presidents' Day-related posts on RedeemedReader, check out our reviews of some Lincoln books, some Washington books, and a post on books for both Lincoln and Washington! If you're headed to your local library this week, remember that biographies are in the "Biography" section according to last name of the subject; check out the 973s in the Dewey section for other resources on the Presidents. If you're more interested in online research, check out the Presidents section of the Internet Public Library.
All cover images from goodreads
Reading Ahead for You
Reviews and Resources Weekly in Your Inbox