Fantasy for middle grades (4th-8th/ages 9-12) is ever expanding. Hayley and Betsy look at two new additions to the field, both of which look light and cheerful on the outside (talking animals, colored thought bubbles, other worlds) but contain deeper thematic elements under the surface. Hayley reviews The Twistrose Key, and Betsy looks at Jinx's Magic.
The Twistrose Key, by Tone Almhjell.  Dial Books, 2013. 354 pages. Age/interest level:  12-up.
Lin Rosenquist is not happy with life in town.  Yes, she loves her parents, but she misses life on the farm in the hills.  She misses playing with her best friend, Niklas, pretending to hunt trolls in the woods and hills.  Above all, Lin misses her pet vole, Rufus, who has recently died.
Naturally, Lin is delighted when she is magically transported to Sylver, a small country inhabited by animals who were loved by children during their life on earth.  Waiting to greet her is Rufus: wonderfully alive, almost her size, and able to talk.  Rufus and Lin are instant friends, but they soon learn that all is not well in Sylver.
Human children, known as twistroses, only arrive in Sylver if there is a desperate need.
With blood on her thorns she must creep through the wall.

When the last hope is lost, a Twistrose is called.
Lin is charged with finding a missing boy, last in the line of a magical family who through enchantments create "the most important of all Winterfyrst magic: the Wandersnow."  She also learns that Sylver's future existence depends upon her ability to complete this task.
Reviewers have compared The Twistrose Key to Narnia. With its plucky heroine, talking animals, and a winter fantasy world, one can understand the comparison.  Readers will soon learn however, that The Twistrose Key is no Narnia.
The plot descends into a tangle filled with mysterious riddles, sinister characters, and an increasingly complicated task.  The darker strands which emerge from this twist are disquieting enough to make this not a book for younger readers, or a read-aloud.
Still, middle-grade readers who can handle a darker tone will enjoy the intriguing winter fantasy world created by Tone Almhjell.
Worldview/moral value 3.5 (out of 5)
Literary/artistic value 4 (out of 5)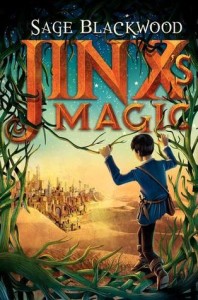 Jinx's Magic (Jinx #2) by Sage Blackwood. Katherine Tegen Books, 2014. 390 pages. Age/interest level: 10-13.
The sequel to Jinx (see our review), Jinx's Magic is definitely a "second" book. Picking up immediately where Jinx left off, the book races to a cliffhanger end! Blackwood's world building, character development, and plotting are very well done. Jinx is revealed to be the Listener: he can hear the trees talk, see people's thoughts, and can summon power from the trees of his home country (the Urwald) as well as through others' knowledge. What this means for the future is unclear, but Jinx is a true hero, sacrificing himself for the good of his adopted father, Simon, and the Urwald. Jinx's magic turns out to be unique to him, related closely to his identity as the Listener. Jinx is also growing up, and the tension between him and Simon adds emotional heft to the story even while the fantasy elements capture our imagination.
Another tension is at work, too, that is harder to nail down. Essentially, there are those who seek to use people (and trees) to further their own power, showing complete disregard for life. Simon and Jinx are trying to thwart them, and both value life. As is often the case in high fantasy, even the trees and other inhuman characters possess power and lives worth saving. In this complex world, Jinx is only just beginning to figure out how he can do magic and at what level. As the Listener, Jinx is supposedly going to be bring balance—between fire and ice. Between good and evil? I'm not sure. Jinx is poised to unite the Urwald, defeat the sinister Bonemaster, and restore Simon. But at what cost? Series can be hard to predict; how will the ideas of "lifeforce," power from the trees, and Knowledge is Power (KnIP) mature in the next book? For seasoned fantasy readers who are well practiced in discernment, this will be a fun series to jump into and read. The Jinx books are masterfully written, and I'm eager to read the next installment. I'm also going to wait until the next book to pronounce anything more conclusive regarding worldview.
Literary rating (out of 5): 4
Worldview rating: TBD
We often look at middle grade fantasy here on Redeemed Reader. For another series straddling the middle grade/young adult lines, see Wilson's Ashtown Burials series.

Ender's Game

, the movie, is now available for home viewing–check out our read along of the book. 
More than 75 books for children and teens, all about islands, oceans, and more. Bonus: get a free hand-drawn reading tracker!
Reading Ahead for You
Reviews and Resources Weekly in Your Inbox