The unspoken bond of family comes through in this gentle winter's tale by Gary Schmidt and his late wife Elizabeth Stickney.
*A Long Road on a Short Day by Gary Schmidt and Elizabeth Stickney, illustrated by Eugene Yelchin, Clarion Books, 2020, 59 pages.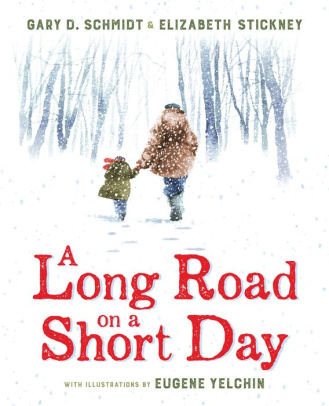 Reading Level: Chapter Book, ages 6-8
Recommended for: ages 6-10
"Early on a white January morning, Samuel's mother said, 'I do wish we had a brown-eyed cow to give us milk for the baby.'"
That's all Samuel's father needs to get up from the table, pocket his best Barlow knife and tell Samuel to dress warm—they're off on a long walk. First to the neighbors to trade the knife for a pair of tin lanterns, then up the road to trade the lanterns for a book of poetry, then to town to trade the book for a blue-and-white pitcher, and on and on, trading up as the short day grows colder and the cold walk grows longer. Will they actually come home with a brown-eyed cow, or will Samuel get something he wants more?
The gentle story quickly falls into a pattern with just enough repetition to keep it cozy and enough variation to keep it interesting. The weather adds a hint of danger and suspense. At first Samuel isn't interested in the trades, but when it comes to items he may actually want, he can't help wishing that "it wasn't a brown-eyed cow his mother was wanting." It looks like someone is going to be disappointed until the story works out just the right way. The boy's struggle, the father's determination, the neighbors' helpfulness combine to make this a satisfying winters' read, whether as a bedtime read-aloud or an independent third-grader curled up beside the fireplace.
Overall rating: 4.75 (out of 5)
Worldview/moral value: 4.5
Artistic/literary value: 5
Also at Redeemed Reader:
We are participants in the Amazon LLC affiliate program; purchases you make through affiliate links like the one below may earn us a commission. Read more here.
Support our writers and help keep Redeemed Reader ad-free.