A Hopeful Heart engagingly presents the life of one of America's first best-selling authors: Louisa May Alcott.
A Hopeful Heart: Louisa May Alcott before Little Women by Deborah Noyes. Schwartz & Wade, 2020, 267 pages.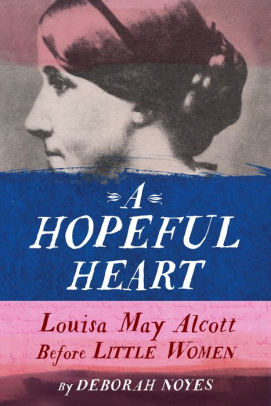 Reading Level: Teen, ages 12-15
Recommended for: ages 12-up
She was an all-American girl, even though few American girls had the interesting, enriching, challenging, feast-or-famine childhood she did. Born to not one, but two idealists, raised among the cream of American intellectuals, she had unusual advantages. But, because of her father's supreme impracticality, she was often so poor that she and her sisters slept on the floor and survived on a diet of oatmeal. Her relationship with her father was both frustrating and inspiring, but the unswerving support of her mother provided the security Louisa desperately needed. It's hard to see how this spirited, but moody, talent would have succeeded without both parents. And succeed she did—even before the runaway success of Little Women, Louisa was making a decent living and supporting her parents by producing both serious fiction and popular potboilers.
This biography is accessible and absorbing. While never seeming too long it covers lots of ground, taking in the personalities, attitudes, and prevailing philosophies of mid-19th-century New England. It was a time of intellectual ferment and national upheaval, with this curious and questing young woman in the middle of it. The narrative is refreshingly free of 21st-century judgmentalism, letting the characters of this time and place speak for themselves. An outstanding example of biography for younger readers.
Also at Redeemed Reader:
We are participants in the Amazon LLC affiliate program; purchases you make through affiliate links like the one below may earn us a commission. Read more here,
Support our writers and help keep Redeemed Reader ad-free.