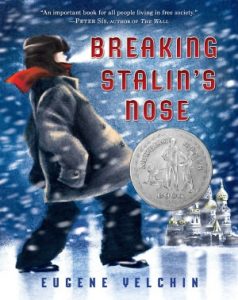 Breaking Stalin's Nose, written and illustrated by Eugene Yelchin.  Henry Holt & Company: 2011, 154 pages. 
Reading Level: Middle grades, ages 10-12
Maturity Level: 5 (ages 12-14) and up
Sasha Zaichik, age 10, is writing a gushy letter to Comrade Stalin when the story opens.  His naiveté should be charming but very soon it turns creepy:
It's dinnertime, so the kitchen is crowded.  Forty-eight hardworking, honest Soviet citizens share the kitchen and single small toilet in our communal apartment we call komunalka for short.  We live here as one large, happy family: we are all equal; we have no secrets.  We know who gets up at what time, who eats what for dinner, and who said what in their rooms.  The walls are thin; some don't go up to the ceiling.  We even have a room cleverly divided with shelves of books about  Stalin that two families can share.

Stalin says that sharing our living space teaches us to think as Communist "WE" instead of capitalist "I".  We agree.  In the morning, we often sing patriotic songs together when we line up for the toilet.
This is Chapter Two in its entirety.  Yelchin's format blends words with pictures almost as extensively as Brian Selznick does (The Invention of Hugo Cabret; Wonderstruck), so the story itself is very short but incredibly punchy.  Sasha longs for the day when his father, a junior-level government official, will tie the red scarf that signifies the boy's official induction into the Young Pioneers.  But on the eve of that day, his father is arrested (we never know why), their tiny two-room apartment taken over by the unctuous neighbor who informed on Dad, and Sasha is suddenly homeless.  Over the next 24 hours he wanders the street, spends a night in the basement, and goes to school with every expectation that the arrest was a mistake and that Dad will arrive any moment to drape him with the red scarf.  In spite of many ominous signs, he reassures himself until the moment something terrible happens (related to the title) and suspicions start popping like firecrackers.  Sasha's illusions pop likewise, one after another, until he has almost none left.  A single but huge act of kindness redeems a grim situation at the very end, but by then our hopes are so perforated we can hardly believe in it.
Though a beautiful meld of text and image, told with economy and precision, Breaking Stalin's Nose is so sad I hesitate to recommend it for the age level (teens might benefit more) except for the fact that it might be the only clue of these dark days that some children will ever get.  And it raises important questions, such as, did an evil man distort a just ideology, or did the ideology enable an evil man?  History can suggest an answer: however equable Communism may seem on paper, its track record stinks.  Stalin ruled by a fear that's palpable on every page of this little story, but it was the ideology that robbed people of their identity and will, and ultimately their power.  Stalin's image rules; Sasha's face is never seen until the end.  It's as if there is no such person, only a receptacle of slogans and propaganda, until the last illusion falls.
Cautions: Dark/Depressing
Overall rating: 4 (out of 5)
Worldview/moral value: 3.5
Artistic value: 4.5
Categories: Middle Grades, Historical Fiction, War, Award Winners
Stay Up to Date!
Get the information you need to make wise choices about books for your children and teens.
Our weekly newsletter includes our latest reviews, related links from around the web, a featured book list, book trivia, and more. We never sell your information. You may unsubscribe at any time.
Support our writers and help keep Redeemed Reader ad-free by joining the Redeemed Reader Fellowship.