Turner comes to understand himself, his father, his peers, his town, and his world in this bittersweet coming-of-age story set in 1912 Maine.
*Lizzie Bright and the Buckminster Boy by Gary D. Schmidt. Clarion, 2004. 217 pages.
Reading Level: Young adult, ages 12-15
Recommended For: Teens, ages 12-15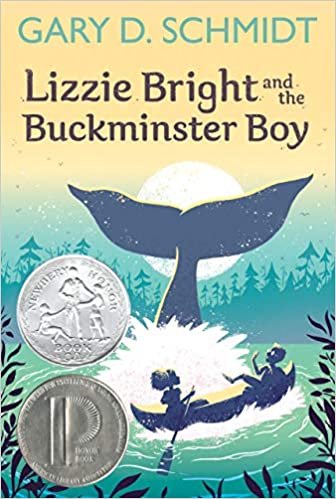 When Turner Ernest Buckminster, III, moves to Phippsburg, Maine, from Boston, Maryland, he fervently hopes the town knows how to play baseball. His father, the Reverend Buckminster, newly hired by First Congregational, sets out earnestly to do his new job to the fullest. But Phippsburg, Maine, is not at all what the Buckminster family bargains for. For starters, they play baseball like no baseball Turner's ever seen. And everyone seems to be vigilantly watchful, particularly over Turner's ability to be a proper "minister's son." Turner finally meets a friend, Lizzie Bright, only to find out that he's disgracing his ministerial father (again). The (white) town doesn't approve of (black) Lizzie nor her poverty-stricken community on Malaga Island. Events spiral out of Turner's control even as he struggles to do the right thing, to love his neighbors (all of them), and to be a true friend.
Turner and Lizzie not only represent white and black; they also represent town and country (island in this case), establishment and fringe, the way-it's-always-been and the way-it-should-and-could-be. Perhaps most poignantly, they represent religion versus genuine faith. All of this potential conflict enlivens a small town that's slowly dying as it faces the end of the shipping industry that's kept it alive.
Turner grows up in this book. He makes hard decisions, stands up for what he believes is right, and watches those "right" decisions still not end happily all the time. A pitch perfect book for the 12-14 crowd, this is a book that raises great questions. It is not a quick-moving book, but one to chew over. Schmidt's biblical allusions are an added treat for those steeped in biblical literacy; his characterization is especially well done in this novel. The audio version of this book is an excellent way to experience it as a family.
Considerations
As with Schmidt's other novels, particularly The Wednesday Wars and Okay for Now, there is a "muse" of sorts for Turner. He spends a good bit of his school-time translating the Aeneid, and this beautifully informs his thoughts. He is also reading The Origin of Species, which raises interesting discussion points with his father.
There is a fair amount of death in this book, including one dramatic accident that leads, eventually, to a character's death. It is a hard book in parts, but ultimately a hopeful one.
Overall Rating: 5/5
Worldview/Moral Value: 5/5
Artistic Value: 5/5
Things to Note/Discuss
When is it okay to stand up to a parent?
Are there decisions that Turner made that you feel are particularly noteworthy? Were there any you disagreed with or thought foolish?
What are some ways in which Turner loves his various neighbors?
What do you think Turner's father should have done in regards to the island (Malaga) and its people?
Who do you think the real "enemy" is in this book? Who do you think changes the most by the end of the book?
Any thoughts on looking a whale in its eye?
Related Reading from Redeemed Reader:
Although we usually link to a print edition, the link below is to the kindle edition of this book. Check the other formats if you would rather have a print copy. We are participants in the Amazon LLC affiliate program; purchases you make through affiliate links like the one below may earn us a commission. Read more here.
More than 75 books for children and teens, all about islands, oceans, and more. Bonus: get a free hand-drawn reading tracker!
Reading Ahead for You
Reviews and Resources Weekly in Your Inbox