Idris, Bard of Blackthorn, is on a quest for answers in this darkly brooding fantasy for teens and adults.
The Door on Half-Bald Hill by Helena Sorensen. Rabbit Room Press, 2020. 302 pages.
Reading Level: Adult (ages 16 and up)
Recommended For: Teens and adults, ages 16 and up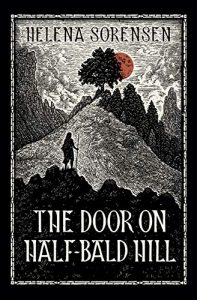 Blackthorn is dying: water, people, and land. The three most powerful people in the community, the Ovate (healer), Druid (priest), and Ollamh (bard), are each caught up in the downward spiral. Corann, the druid, focuses on the old ways, meticulously following all of the customs, performing the sacred rites, and seeking answers in deep meditation. Corann's ultimate desire is to find and restore balance between death and life. Zinerva and her master, the Crone, have allied themselves with death itself, taking the path of least resistance (and the opposite of their calling as healers). It is Idris, still in training to be the bard, who is asking questions and seeking answers, actively trying to tip the scales away from death. It is through Idris's eyes and voice that the reader hears his despair, anguish, and desperate hope. And it is through Idris that the community looks for hope and answers.
The Door on Half-Bald Hill is a unique read. Similar to Till We Have Faces in mood and reminiscent of works like The Dark is Rising in its Celtic mythology, it is unlike either in its whole. The narration is first person, present tense; that in itself is a unique choice. The result is that the reader is so fully immersed in Idris's own experience that it is hard to feel sympathy for other characters, to keep up with the nuances of other characters, and even to feel much sympathy for Idris himself. We lack the dramatic irony that often occurs with first person narration in which the reader occasionally knows more than the narrator and can chuckle, commiserate, or simply relax, knowing that the narrator will soon figure it out.
Sorensen's world building is excellent. The details of the natural world, the delineation of custom, tradition, and religious rites is both foreign and familiar. However, this is not a book that every fantasy-loving teen or adult will enjoy. The vivid dark world, the depth of druidic knowledge and detail, and the tension and despair of the narrator are troubling. Asking readers to remain so fully in the present moment through a first person, present tense narration doesn't allow readers enough distance to pull back and rest. Rest isn't something we think about when reading, but when an author makes unrelenting demands on the reader to figure out what is going on under the surface, the reading experience becomes tiresome. Additionally, the Irish names are confusing. Normally, these would add great depth to the world of the story, but in a story such as this, the names add to the feeling of unfamiliarity and tension. Sorensen did create a pronunciation guide; I wish I'd known about it before reading the book!
There are rich themes here for the mining, for readers who are interested in diving in: life versus death, how we respond to waiting or suffering, how we interact as a community. But this is a book best read with others to discuss in order to fully appreciate what Sorensen is trying to say.
Considerations:
This is a fantasy book that portrays much pagan mythology and religion. Readers who wish to avoid those elements should pass this book by.
The overall tone of the book is dark, questioning, and despairing. There are glimmers of hope before the end, but they are feeble. The lack of delight/joy (at least a strong sense of those) means that this is probably not a book for teens who are already struggling with anxiety. The end is a vibrant one, but it's a long journey to that point.
Do take the time to discuss the pagan elements and the Christian overtones if your teen chooses to read this book. Why is the new force in the book "Light?" How is Idris's experience new, different, and Christian (compared with his pagan traditions)? Discuss what makes a Christ-figure in a book, what makes a hero, and the importance of asking and answering questions.
Overall Rating: 4 out 5
Worldview/Moral Rating: 4
Literary/Artistic Rating: 4
Have you read The Door on Half-Bald Hill? Did you enjoy it? Tell us in the comments!
Related Reading From Redeemed Reader and Rabbit Room
A Review: The Thief by Megan Whalen Turner (another series that uses a pagan setting with spiritual overtones).
An Interview: Drew Miller interviews Helena Sorensen about this book at Rabbit Room (do read the interview if you plan to read the book!). Read Part 1 and Part 2. I wish her sentiments (particularly about joy) had come through more clearly in the book.
A Discussion: The Redeemed Reader team discussed Till We Have Faces a few years ago.
We are participants in the Amazon LLC affiliate program and others; purchases you make through affiliate links like the one below may earn us a commission. Read more here.
You may purchase The Door on Half-Bald Hill at amazon using the link below, directly from Rabbit Room (members, don't forget that you get a discount!), or from Bookshop (which supports local bookstores).
Support our writers and help keep Redeemed Reader ad-free.