The first book in a top-notch series about an extraordinary thief and the intertwining of three kingdoms is amazingly well done.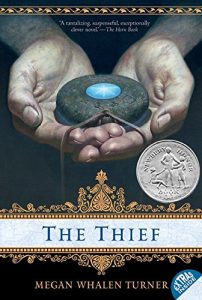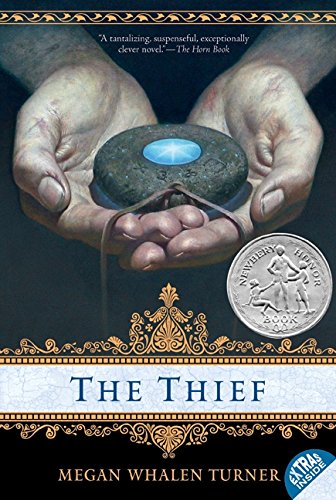 *The Thief by Megan Whalen Turner. Greenwillow Books, 1996. 304 pages.
Reading Level: Teen, ages 12-15
Recommended For: Ages 12 and up
Eugenides, a cocky thief, is hauled out of prison by the Magus of Sounis to steal a treasure from the mountains of Attolia. It's complicated to explain their quest, but they are pursuing a lost gift of the gods to give to the king of Sounis, who will then claim sovereignty over the neighboring country of Eddis.
In spite of the wine shop boasting that landed Eugenides in prison, his skills as a thief and usefulness to steal the treasure appear questionable. The Magus and company tolerate him as they would a trained beast. Eugenides complains throughout, despising his companions and the journey, until his abilities are put to the test along with his faith in the gods. The conclusion spins the reader's expectations, revealing that there is more to Eugenides than we realized, whetting the literary appetite with characters and schemes that are increasingly complex and set the stage for the richer story that unfolds in succeeding volumes.
Turner's series is set in a fictional era with a mélange of Ancient Greek and medieval elements. Her writing is excellent, though sometimes she is too subtle by half, and is worthy of reading a second time. Eugenides is a fascinating character whose story weaves together the future of Sounis, Attolia and Eddis.
This is the first title in my favorite series that has been published within the last twenty years, followed by volumes that are increasingly brilliant and beautifully written. Readers with a taste for adventure, history, fantasy, swordplay (and a bit of romance!) will find plenty to feast on in this story.
Cautions: language (profanity; a few instances of "damn" and "by the gods")
Overall Rating: 5
Worldview Rating: 4.75
Artistic Rating: 5
*indicates starred review. This title is one of our Winter Book Fair picks this year! 
More than 75 books for children and teens, all about islands, oceans, and more. Bonus: get a free hand-drawn reading tracker!
Reading Ahead for You
Reviews and Resources Weekly in Your Inbox