Ranch girl Pearl discovers the brand-new technology of moving pictures in this fun read for early middle-graders.
The Nerviest Girl in the World by Melissa Wiley.  Alfred A. Knopf, 2020, 186 pages.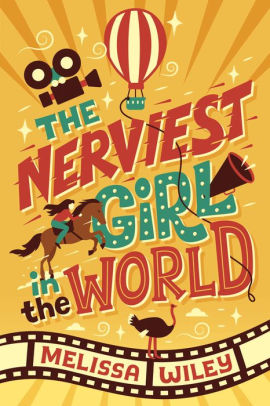 Reading Level: Middle Grades, ages 8-10
Recommended for: ages 7-11
Except for irritable ostriches and daredevil big brothers, Pearl Donnelly lives a pretty quiet life on her family's southern California ranch. Then Mr. Corrigan came around, looking for a few good riders to shoot. With a moving-picture camera, that is; Corrigan is the chief visionary of the Flying Q Film Company, now cranking out a picture a week for the nation's nickelodeons. He's just moved to California to escape the patent-suing proclivities of Thomas Edison, and is wasting no time in recruiting talent for his thrilling westerns and weepy melodramas. All three of Pearl's brothers sign on as extras and bit players, and Pearl gets to observe the action, once her ostrich chores are done. After her escapade with a runaway horse, however, Mr. Corrigan sees potential in a spunky little girl with no apparent risk aversion. He may be overly optimistic about that, though.
Pearl narrates her own story with a sharp eye for detail and comparison ("The crowd scattered like minnows when you throw a rock into the creek," "a border of low hills melted into the bright sky"). Acting is a mysterious concept to her until she makes an important discovery: 'everybody's an actor at some point or other—pretty much every day, come to think of it." That is, we all downplay or build up or swap acceptable responses for our real feelings. There's not much tension to the plot—no mysteries to solve or threats to overcome—but Pearl's comic asides and insights, along with characters that avoid being caricatures, make for a pleasant story as it ambles into the sunset.
Overall Rating: 4 (out of 5)
Worldview/moral value:3.5
Artistic/literary value: 4
Consideration:
Pearl's Catholic grandmother utters a "Jesus, Mary, and Joseph exclamation early in the book, which sounds like profanity to Protestants but is fairly common among older Catholics.
Also at Redeemed Reader:
We are participants in the Amazon LLC affiliate program; purchases you make through affiliate links like the one below may earn us a commission. Read more here.
Support our writers and help keep Redeemed Reader ad-free.