Get Your Story Straight is a straightforward devotional guide that invites teens to study the story of Scripture, focusing the real hero of the story. Hint: it's not them.
*Get Your Story Straight: A Teen's Guide to Learning and Living the Gospel by Kristen Hatton. New Growth Press, 2015. 288 pages.
Reading Level: Ages 12-15
Recommended For: Ages 12-15 (and up)
Today's teens are growing up in a narcissistic culture: selfies are a primary mode of expression. Social media is essentially a collection of monologues rather than old-fashioned conversation. And nothing "counts" if we don't Instagram it (or Snapchat or fill-in-the-blank new version).
Humanity has always been this way, though. Way back in Genesis, people were navel gazing instead of worshiping the Lord in the right way. The Bible is replete with examples of idolatry, selfishness, and grumbling.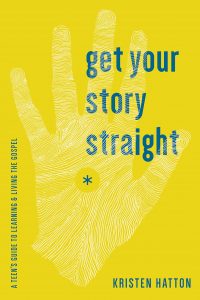 Get Your Story Straight aims to set the record–and story–straight: God is the hero of the story. Not us.
Writing directly to teens, Hatton seeks to train teens in Bible study methods (observing, summarizing, and asking questions), teach them the overall story of Scripture, and encourage them to reflect on the Lord and what He has done in their lives. Three sub-divisions include "Getting the Story Straight," "My Life Mixed into the Story," and "The Story in Me Lived Out with Others."
Each week follows the same 5-day format, focusing on one primary passage of Scripture for the entire week. Scripture passages come from both Old and New Testaments; Genesis, the Gospels, Romans, and other Epistles appear most frequently, but others are also represented.
Day One: Straight from the Word (the week's (ESV) Scripture passage with instructions to interact with the text, underlining/marking specific ideas and words)
Day Two: The Word Applied (a short devotional)
Day Three: Straight to My Heart (thought-provoking questions designed to encourage self reflection with an eye back to the week's Scripture passage)
Day Four: Back to the Word (more thought-provoking questions based on the same Scripture passage(s))
Day Five: Journaling and Prayer (journaling prompt and a short prayer)
Get Your Story Straight is a book to write in, to use. 52 undated weeks provide a year's worth of material that a teen can start at any point in the year. The 5 days-a-week format is helpful, too, allowing teens to catch up on the weekend or focus on something different those two days. If you're looking for a solid teen devotional, check this one out.
Highly recommended! *indicates a starred review
Related Reading from Redeemed Reader:
We are participants in the Amazon LLC affiliate program; purchases you make through affiliate links like the one below may earn us a commission. Read more here.
Support our writers and help keep Redeemed Reader ad-free.