The HCSB Essential Teen Study Bible presents 99 "Essential Doctrines" with extensive scriptural backup and application.
*The HCSB Essential Teen Study Bible.  B&H Kids, 2016, 1312 pages.  (Available in several softcover and one hardcover edition)
Reading Level: Middle Grades, 10-12
Recommended for: ages 10-17
The Holman Christian Standard translation (now available as the Christian Standard) is the only Bible translation sponsored by a publisher, but it's won praise over the last ten years for accuracy and readability—and resistance to trendiness.  I like it fine, and I like this edition a lot.  The "essential 99"—which reminds me of Martin Luther and the Wittenberg church door—are hardly lightweight.  They include Imputation, Atonement, Guilt and Shame, Millennial Views, Trinity, Adoption, Regeneration . . and you get the idea.  The essentials are listed in the front, with page numbers to direct the reader to each exposition in the text.  One-page book introductions cover the standard material: who, when, why, and famous stories, but also includes a Main Redemption Thread explaining how the book develops that great theme.  In-text features include "Behind the Story" boxes, which expound on history and cultural references (small pictures illustrate these, and a few are pictures of Jesus).  Memory Verses, Essential Questions, Study Notes, short Devotionals, and Redemption Thread features are also scattered throughout.  The "Respond" boxes suggest ways to apply scriptural principles to faith and practice.
Essential Doctrine pages don't just explain the doctrine, but includes scriptural support, thought and discussion questions, and often false and mistaken interpretations.  Many of these leave room for the reader to write a response, make a list, ask questions, summarize and paraphrase.  This is one of the more interactive Bibles I've seen; neither trivial nor trendy.  It looks like a good choice for a new Christian or a Christian teen who's ready to go deeper.
Value: 5 (out of 5)
For our previous Bible posts, type "Bible Reviews" in the search box and keep scrolling.  And here's our post on Choosing Your Child's First REAL Bible and our Comparison of major Bible translations.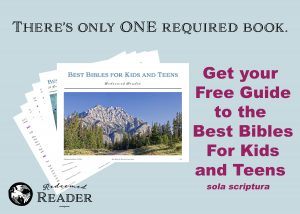 Readers, this is one of our top recommendations for children's Bibles. To see more, get your FREE Guide to the Best Bibles for Children and Teens!
Please follow and like us: