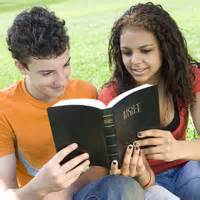 In an earlier post I wrote about beginners "Bibles" and Bible storybooks.  That was followed up by a post on the methods and merits of the most popular English translations, then Bibles for elementary-age readers.  Today, as we're thinking about high-school graduations and college-bound sons and daughters, I'd like to look at Bibles aimed at young people who are beginning to exercise independent thinking—a development that's both thrilling and frightening to moms and dads. 
In this week's WORLD column, I wrote about the need for young people to own for themselves the principles their parents taught them—in biblical truth above all.  That makes the choice of a Bible even more crucial, perhaps, than it was for younger kids.  Our free-market system ensures that where there's demand there will be supply, so a diligent shopper will find no dearth of "Teen" and "Student" Bibles out there.  The problem may be sorting out which is best for your own young adults.  I have my own opinions but I don't know your kids, so individual preferences and needs must be taken into account—you might even ask them!  Today's post is a tour of readily-available titles (I found them all at Mardel), for barely-teens to the college- and career-ready.
First, consider whether your teen needs a Study Bible, Devotional Bible, or Reading Bible.  What's the difference?  A study Bible is designed to help the reader engage intellectually with the text, by providing theological and textual notes, cross-references, maps and charts, timelines, and anything else that will help clarify the meaning.  Devotional Bibles are designed to help the reader engage emotionally with the text.  They're usually slanted toward the reader's age group, interest, and/or demographic (have you seen Zondervan's new NIV Homeschool Moms Bible?) and contain lots of sidebars with encouraging  thoughts, leading questions, and key verses.  "Life Application" Bibles tend to be a blend of study and devotional.  Everything else falls into the category of reading Bible: just the text with little supplementary material (besides the omnipresent "weights and measures"—does anybody actually refer to those?).  Some rearrange the text in chronological order and some, like the ESV Literary Study Bible, include notes to enhance "just reading."  At the teen age, I would personally lean more toward study Bibles than devotional, though again, it depends on the individual.  And if the budget allows, consider buying one for just reading.   
The value ratings, from 1-5, refer to overall quality and age-appropriateness.   And while we're on the subject of graduation: check back later this week for gift ideas!

The NIV Student Bible, with notes and commentary by Philip Yancey and Tim Stafford.  Zondervan, 2011, 1568 pages.  For ages 14-up.
The original Yancey & Stafford Student Bible was published some twenty years ago, so it's already a classic in the field.  This "deluxe" edition is the latest, with little change except in the translation itself.  Over the years the NIV has drifted toward more "gender-neutral" language—not to the extreme of rendering Son of Man as the Human One (as the latest editions of the Contemporary English Version do), but in less jarring ways.  Where man was used generically to mean mankind, for example, people or human beings is substituted.  All this is explained in the preface to the 2011 edition.
The study content of the Student Bible has changed little if any.  The introductory material includes reading plans for three levels: beginners who are unfamiliar with the Bible, beginners who have been in Sunday school but haven't engaged scripture for themselves, and readers who are ready for a more in-depth study.   The whole-Bible reading plan takes three years, which seems more reasonable to me than a one-year plan.  (My problem with one-year plans is that few readers have the time each day to give adequate thought to the amount of material required.  Reading the Bible becomes more of a relay race than an engagement with the word.)  The In-text features include "Highlights" (short notes about content), Insights" (articles that connect biblical truth to contemporary issues or daily life), and "Guided Tour" stops, which coordinate with the Level 2 reading plan.  The appendix includes indices of subjects and people, a glossary including everybody and everything mentioned in the Guided Tour and Insight articles (Bono and Robert Frost sharing space with Augustine and Calvin), where to find well-known events, an Old Testament timeline and an expanded list of kings, with summaries and corresponding prophets.  And of course, no study Bible would be complete without the full-color maps.
This is a solid resource with thoughtful, well-written commentary in the broadly Evangelical tradition.  The target reader would probably be someone at the Level Two reading plan: a young man or woman who's attended church for most of their life and now needs to get into the word in depth.
Value: 4

(For the 2011 edition, because I'm not comfortable with the NIV translation drift)
NIV Teen Study Bible.  Zonderkidz, 2011, 632 pages.  For ages 12-16.
"Study Bible" is a bit of a misnomer–it's more of a Beginning to Discover the Word for Myself Bible.  Nothing wrong with that; there's just not too much in the way of actual study helps, meaning that this Bible shades over into the Devotional/Life Application side.  The Teen Study Bible does include all of the NIV text notes that give alternate translations and the meanings of Hebrew names.  There's also a one-page introduction to each book which helpfully places it in its historical context.  The distinctive in-text features are "To the Point" (explaining what the Bible says about contemporary issues) and "Instant Access" (personal application).  Key verses are highlighted in "Bible Promises."  The appendix includes a Bible Truth Index and a Teen Life Index (from Abortion to Zits!).  And a nice classical touch: a breakdown of every phrase of the Apostles Creed, with references. 
Value: 3 

(Good as far as it goes, but

you can do better.)



NIV True Images: the Bible For Teen Girls.  Zondervan, 2011, 1696 pages.  For ages 12-18.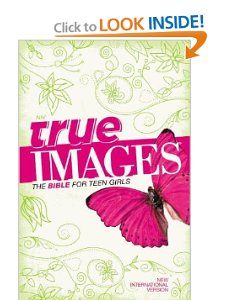 The NIV has generated more "specialty" Bibles than any other translation, or I should say that Zondervan (which has exclusive NIV publishing rights) has shown unusual enterprise in this area.  Specialty Bibles, like this and the next, are more devotional-based; they're about connecting the word of God with the child of God in his or her particular circumstance.  True Images plays on the well-known obsession of teen girls with their appearance.  (Yes, it's a stereotype, but stereotypes are based on truth–there are very few male victims of anorexia, for instance.)  The study features consist mainly of several 30-Day Reading Plans (such as sampling the Psalms, covering the life of Jesus, addressing topics and issues) plus a 90-Day Tour of the Bible plan.  Each book begins with a one-page introduction, and in the appendix, "Christianity 101" gives the basics of salvation and Christian life. 
So far so good; the in-text features are where specialty Bibles show their specialness.  True Images is almost overwhelmingly pink, in appearance and in content.  "Mirror Images" focus on women of the Bible, fifty-two in all. "In-Focus" stories are incomplete narratives that encourage a Christian response to situations a teenage girl is likely to encounter.  These relate to self-esteem, relationships, boys, homosexuality, purity, shoplifting, abuse, conflict, envy, music, virginity, compassion, and more.  "Love notes" purport to be from God (a la Jesus Calling), assuring the reader of His love and personal interst, and "Truth or Dare" boxes point out Bible principles.  Glossy, full-color inserts give the reader a chance to get in touch with her feelings about dating, parents, accomplishment and other issues that occupy much of a teen girl's mind.
True Images has several contributors, with theological review supplies by Dr. Andrew Sloan of Oral Roberts University.  I assume a certain theological slant, but haven't read enough of the study notes to say for sure.  My main problem with True Images is that it encourages a self-focused, naval-gazing kind of Christian meditation.  Some self-focusing is necessary in the teen years, but it's a little overdone here.
Value: 3

, for too much image.
NIV Revolution: the Bible for Teen Guys.  Zondervan, 2012, 1600 pages.  For ages 12-18.
In case you didn't know, you're in a war. Your enemy is dead serious. He wants you to think the battle raging around you is no big deal. It is a big deal. Your life, your relationships, your world—it's all a big deal, and it takes a big, God-filled heart to make a difference.  So reads the back cover copy, and the Introduction by Alex and Brett Harris carries on the theme: "We can't think of a group of people that society looks down on more than teen guys.  We've spent the last five years encouraging our peers to rebel—not against parents or teachers or God-given authority but against low expectations that say now is the time to goof off and have fun before 'real life' starts."  If I had to pick between this Bible and the previous one, I'd go for Revolution, with its high-stakes, no-holds-barred, battle-cry style that seems so apropos in a post- (if not anti-) Christian culture.  And teen guys need something to sink their teeth and muscles into—you can practically smell the sweat wafting off the grim, minimalist cover.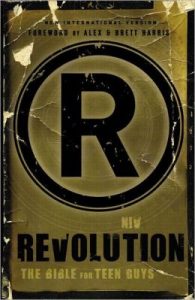 Distinctive features include "Battlelines" (interviews with real guys), "Be the Change" key verses, "Live the Revolution" (described as "gutsy calls to action" regarding holy living), and "Challenge Notes" (i.e., words from God, the masculine version of "Love Notes"—none of that mushy stuff for the guys!).  "Match-ups" are conflict stories from the Bible—Cain vs. Abel, Nehemiah vs. Sanballat, Diotrephes vs. Gaius (that one sent me back to my concordance)—that mainly focus on making choices.  Some of them use the What if—device, e.g., What if Abraham had said No way! to Sarah's idea to conceive a child with Hagar?  I appreciate the technique, but some of these may hedge on the doctrine of God's sovereignty just a bit . . .
The appendix material is basically the same as True Images: "Christianity 101," subject index, 30-day plans, and a Creed and Covenant.  The glossy, full-color inserts feature not quizzes but lists: 50 Passages about God as a Revolution God; 50 Ways to Be a Good Friend; 40 Ideas for a Fun Date, 70 Promises of God, 40 Things Real Men Do/Don't Do.
Value: 4

 

(There's a lot to like here, though it may be a little too much testosterone for some.)
NIV Once-a-Day Bible for Teens.  Zondervan, 2012, 1296 pages.  For ages 12-18.
The classic NIV Once-a-Day Bible groups readings into daily doses: 2-3 Old Testament chapters, 1-2 New Testament chapters, plus a Psalm or short passage from Proverbs.  This is a good plan that I've used for myself.  (I also like the Navigators Discipleship Journal Plan—available here in.pdf format–which draws from four separate tracks.)  The advantage of the Once-a-Day Bible and similar versions (I'll talk about another one below) is that you don't have to stick your Bible full of bookmarks or spend precious time turning to the next passage—it's all laid out for you.  An even bigger advantage is the way the unity of the Scriptures unfurls when you compare Genesis to Matthew and I Corinthians to Proverbs.  The disadvantage of such a layout is that it's for reading and meditation only–not so good for study because it's hard to find references when they're all mixed up. 
The Once-a-Day Bible for Teens helps less-experienced readers focus with a "Rewind" feature at the end of each day's reading: a one-paragraph summary that condenses the main thought(s), makes obvious connections, and leaves a little space for personal notes.  The soft-cover edition is reasonably compact, making it handy for toting to summer camp or freshman year at college.  A separate Once-a-Day Devotional guide follows the daily readings and provides (in standard devotional format) a key verse, a meditation, and a prayer.

Value: 3.5

 

(Though limited, this is a helpful Bible for encouraging personal meditation, without any distracting "features.")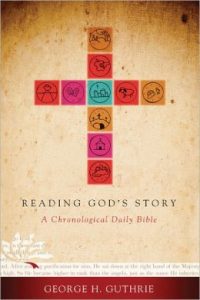 HCSB Reading God's Story Bible, George Guthrie, ed.  Holman Bible Publishers, 2011, 1440 pages.  For ages 14-up.
The HCSB (Holman Christian Standard Bible) is a newer translation that deserves to be better known.  Since it is so new there are fewer HCSB editions available, but here are two worth mentioning for teens.  Reading God's Story is similar in layout to the NIV Once-a-Day, but the purpose is not quite the same, nor is it specifically aimed at youth.  Still it could be very helpful to a student with a literary bent who already owns a good study Bible.  Reading God's Story is the entire scripture arranged in three "Acts" and a total of seventeen "scenes."  Act I is "God's Plan for All People," covering Genesis 1-11.  Act II is "God's Covenant People," covering the historical sweep between Abraham and Nehemiah.  Act III, "Christ and the Church," addresses New Testament history—though NT passages can be found among the OT history, and vice versa.  The scriptures are arranged in daily readings with checkboxes. 
Here, for instance, is the plan for Week One: Day 1, Gen. 1&2; Day 2, John 1:1-3, Ps. 8, Ps. 104; Day 3, Gen. 3-5; Day 4, Gen 6&7; Day 5, Gen 8-9; Day 6, Gen. 10-11.  Day 7 is recap and prayer day.  This is one of the more orderly weeks—by the time we get to Week 40 the passages skip all over the four gospels with an excursion into Psalms.  Job follows Genesis and the books of Samuel and Kings are interspersed with II and II Chronicles, as well as Psalms, Proverbs, Ecclesiastes, Song of Solomon and all the prophets.  An index of Bible Chapters is included in the appendix, so if you have to look up a passage you at least know what page to find it on.  Like the Once-a-Day Bible, this isn't good for studying or cross-referencing, but for getting a grasp of scriptural unity it probably can't be beat.
Value: 4.5

(Limited, but excellent for "just reading.")
HCSB Apologetics Study Bible for Students, Sean McDowell, ed.  Holman Bible Publishers, 2010, 1440 pages.  For ages 13-up.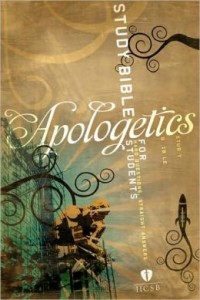 This is a slightly simpler version of the Apologetics Study Bible, but seems more than adequate for a high-schooler or college student.  I wouldn't send a kid off to college or the armed forces or even a fast-moving freight train without some kind of training in apologetics, and this Bible offers a handy place to start.  The in-text features include 120 articles by authors across the Evangelical spectrum (Josh and Sean McDowell, Hank Hanegraaff, John Mark Reynolds, John Ankerberg, etc) on evidences for God, plus topics unbelievers are likely to raise, such as "What about the Crusades?," "Does the Bible contain errors?," and "Is Jesus the only way?"  The Twisted Scripture boxes discuss scriptures commonly misused by cults; Bones and Dirt highlight archaeological discoveries, Tactics help young Christians sharpen their apologetics skills, and Personal Stories and Notable Quotes provide faith-building examples.  
The HCSB is notable for text notes, which are included in this edition, as well as plentiful study notes that shed more light on difficult texts.  Chapter introductions, some of which run to four pages or more, provide not only major themes and authors but expanded timelines of historical context.  One thing it doesn't have is maps—an inexcusable oversight, given all the other great contextual material.  My one other complaint is that the pages are very thin, especially for the soft-cover edition, and the text shows through to an extent that could be distracting.  Otherwise it's a handy size that can be easily toted around campus and brandished in the face of an obnoxious sociology professor (though that's not a tactic I would recommend).
Value 4.5

(I'm only counting off for the maplessness; otherwise I love it.)
ESV Student Study Bible.  Crossway, 2011, 1856 pages.  For ages 13-up.
If the title sounds a little redundant, it's because this is a younger version of the massive ESV Study Bible,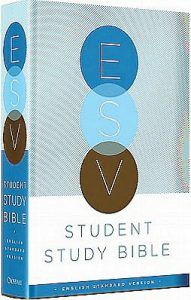 a chunk of text that has it all.  The Student version has all the same kinds of resources, just not quite so much.  As a result, it's somewhat easier to haul around in a book bag or Bible carrier.  The theological slant, as in most ESV editions, is "classic evangelical orthodoxy in the historic Reformation stream."  A flip-through reveals that the study notes are condensed but thorough, and the helpful drawings and diagrams are exactly the same as in the big brother version.  One feature I've found particularly helpful in my ESV Study Bible are the numerous charts, such as (just choosing at random) "The Hand of God in Ezra and Nehemiah," "Parallels between Jeremiah and Lamentations," "Paul's Visits to Jerusalem in Galatians and Acts."  And many more.  Many of these charts are retained in the Student version.  Old and New Testament overviews and book introductions are shorter, but include similar outlines and timelines.  The Student Study Bible also includes youth-oriented in-text features, such as "Did You Know?" facts about Bible times and "Personality Profiles" of major characters.  The page and chapter numbers are in blue for easier reference.
The theological articles that make up such a hefty slice of the Study Bible are here as well, just not so many of them.  The complete list: "God's Plan of Salvation," "The Importance of the Church," "The Authority and Reliability of the Bible," "How to Read and Understand the Bible," How to Apply the Bible in Daily Life," "Important Christian Truths," and "The Bible and Christian Living."  An extensive glossary, concordance, and maps wrap it up, and if you're wondering who was involved in this Bible's production there's a list, headed by Wayne Grudon and J. I. Packer.
Readers, this is one of our top recommendations for children's Bibles. To see more, get your FREE Guide to the Best Bibles for Children and Teens!
The Evidence Bible–NKJV, Ray Comfort, ed.  Bridge-Logos, 2011, 1954 pages.  For ages 15 and up.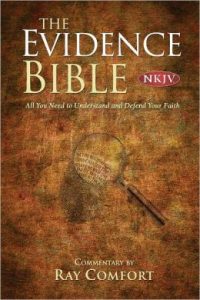 No wonder this Bible contains "all you need to understand and defend your faith."  It's big–the chunkiest Bible in this entire post, partly because of the unusually large font size (other editions are available, including a softcover complete, a NT-only, and a two-volume softcover).  More than an apologetics Bible (though it's that, too), this is the version for Christians who are driven to evangelize.  We all should be so driven, but this is Ray-Comfort-style evangelism—he even includes tips for how to draw a crowd while preaching on street corners.
Recurring in-text features include "Springboards for Preaching and Witnessing" (how to recognize openings for evangelism), "Principles of Growth for the New and Growing Christian," and "Points and Tips for Open-Air Preaching."  In-depth doctrinal comments about God, Jesus, the Bible, Evangelism, Training Children, Religion, Evolution/Creation, and much more help to sharpen a young believer's faith.  You'll also find "Common Questions and Objections" on all the above topics, plus Hypocrisy, Self-righteousness, Heaven & Hell, and Sin.  And don't forget the excuses a believer is likely to encounter once he gets serious about sharing his faith.  How do you to reply to "There are no Moral Absolutes"? or, "God made me gay"? or, "We're all God's children"?  Ray Comfort has heard it all, and he has an answer for all, developed over years of practice.  Pithy quotes from famous Christians are scattered through the text: Spurgeon, Chesterton, Augustine, Lewis, and many more.  Though not specifically geared toward youth, The Evidence Bible speaks to youthful energy and idealism.  Teens and twenty-somethings running to the front lines need a sharp weapon, and this is it.
Value: 5 

(Excellent for its purpose)



Speaking of youth and the siren song of adventure, The Waterproof Bible (published by Bardin & Marsee) might be just the ticket.  It's available in five translations (NIV, ESV, NLT, KJV and NKJV) and four cover designs: tree bark, pink lotus, blue wave, and blue tree frog.  The chief virtue is not additional content but extreme durability; the synthetic waterproof pages and cover can stand up to anything: flood, blizzard, or elephant stampede.  They are untearable, unsoakable, unstompable—and you can even write on them.  The advantages for kayakers and backpackers are obvious.  Most of the translations seem to come in only one size—5.8 x 8.7.  Backpackers would prefer something a little smaller, but so far as I can tell the KJV is the only translation available in the 4.3 x 6.9 size.  Serious young Christians should be able to squeeze even the larger size into a backpack or dry bag somehow (or wait—who needs a dry bag??).  I'm neither young nor into extreme sports, but I want one!
Value: 5 (Just for reading, but you can "just read" it anywhere.  Even under water.)
Finally: for young Timothy's and Mary of Bethany's who have been privileged to grow up with the word and already have an understanding of its contents beyond their years, consider the 17:18 Series from Reformation Heritage Books.  The name of the series is drawn from Deuteronomy, where Moses is instructing the people what to require of the monarchy they will eventually have.  "And when he sits on the throne of his kingdom, he shall write for himself in a book a copy of this law, approved by the Levitical priests.  And it shall be with him, and he shall read in it all the days of his life, that he may learn to fear the Lord his God by keeping al the words of this law and these statutes . . . " (Dt. 17:18-19).   Thirty-four hundred years later [according to the preface], educators are "discovering" that students who physically write out their notes by hand have a much greater retention rate than those who simply hear or visually read the information.  Apparently, God knew this to be true of the kings of Israel also.
The methodology for this series of "Journables" is elegantly simple.  Laid out like a lined journal, each right-hand page is headed by the book's chapter and range of verses, with individual verse numbers down the left margin.  The "scribe" hand-writes each verse in its designated space.  The left-hand page is for notes.  Occasional questions and suggestions are lightly printed (e.g. for I Cor. 13:1-3, What is Paul teaching about love? for 4-8, List and explain the attributes of love), but they can easily be written over if the Spirit leads elsewhere.  Of course, anyone can do this with an ordinary journal or a spiral-bound notebook, but these are keepsake quality: each volume is handsomely bound in black, with sewn pages and a bookmark.  Great for stay-at-home daughters and enterprising sons.  For more information and a list of available volumes, see the 17:18 website.
If your kids are under the age of seven, you'll want to see Betsy's post from yesterday about summer devotional guides for little ones.  And, once again, the previous posts in our Bible series: Beginners' Bibles and storybooks, Considerations for choosing a Children's Bible, and Sorting out the Children's Bible Market.

Since this post, Redeemed Reader has reviewed new children's Bibles every spring.  To search our reviews, simply type "Bible Review" in the search box.  If you're looking for a particular translation, type "Bible Review" followed by the translation initials (NIV, ESV, NKJV, etc.)

More than 75 books for children and teens, all about islands, oceans, and more. Bonus: get a free hand-drawn reading tracker!
Reading Ahead for You
Reviews and Resources Weekly in Your Inbox