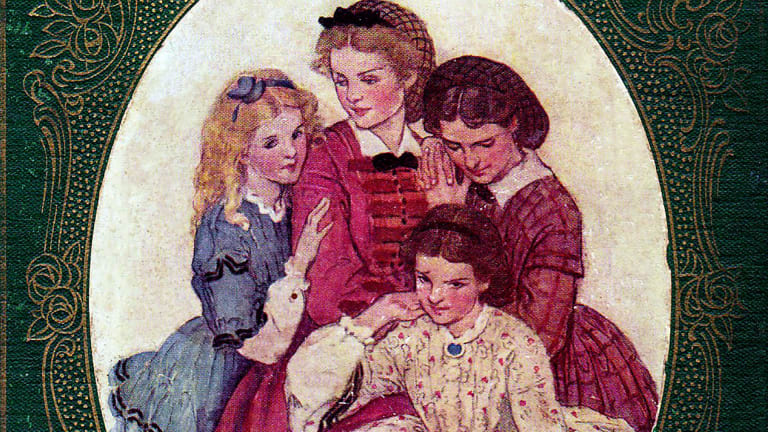 With the eighth major film adaptation opening on Christmas Day, I thought I'd share a few thoughts on this classic. I read it at the urging of my mother at the age of 13 or thereabouts, and found it boring. I read it again around the age of 27, and couldn't put it down. Word to the wise: don't give up on a book that's stood the test of time, unless you've given it at least two tries!
The story of how it came to be is well known: Louisa May Alcott was supporting her parents by churning out gothicky potboilers for Frank Leslie's Illustrated Newspaper. ("The Maniac Bride." "The Bath of Blood." "Pauline's Passion and Punishment.") When Thomas Niles, of the publishing house Roberts Brothers, suggested she write a novel for girls, Alcott initially refused. She didn't like girls (except for her own sisters); boys were much more exciting to write about. Mr. Niles kept pushing, and the author finally gave in. Published in 1869, Little Women was an instant best-seller, delivering its author and her parents from chronic poverty.
In the 151 years since, it has spread all over the world, influencing future writers everywhere. Little Women is almost as popular in the UK as here. As Mark Twain is credited with invention American literature with The Adventures of Huckleberry Finn, Louisa May Alcott invented "the girls' story," which before had mostly been sappy pious narratives.
Is it a "feminist" novel?
Opinions differ, often circling around the novel's presentation of marriage. 19th century readers were disappointed that Jo didn't marry Laurie, when she was so obviously suited to him. Contemporary readers often complain that Jo married at all, and why marry that stuffy German professor who—gasp!—criticized her writing? The author herself may have been ambivalent. She never married, and may well have seen a husband as hindrance. Her own father was eccentric (to put it mildly), and her mother was often forced to take in outside work to support the family while her husband went through spells of depression over the failure of his latest utopian plan. In the novel, Meg, Jo, and Amy appear to make marriages that are mutually beneficial. Still, some contemporary feminists castigate the book for not letting the girls launch their own careers and keep their own counsel. (Some people you just can't please). Marriage aside, an abundance of prominent women writers today cite Jo as an inspiring example of courage and creativity.
I don't remember being inspired by Jo, but I liked her. I liked all of them; they seemed real. They were real, and that's inspiring enough for me.
Is it a "Christian" novel?
There are many Christian references. In the second chapter, Marmee gives each of her girls a little New Testament as a Christmas gift: "that beautiful old story of the best life ever lived." All the girls resolve to read it daily, but there's little mention of it afterward. Some 19th-century critics complained that Little Women was unchristian, especially when compared to the fashion in overtly evangelistic girls' novels. Elsie Dinsmore, published the year before, featured a virtuous little girl who suffered abuse from her own infidel father until, a few volumes on, she managed to convert him. Little Women is a vastly better novel, even if the girls were putting on a secular play on Christmas Day rather than going to church. In fact, do they go to church at all? I can't remember. Regular Churchgoing was not part of Louisa's upbringing, and her Christianity was probably more of the moralistic kind. That said, all the girls deeply resonate with The Pilgrim's Progress and reference it several times in the course of the novel. Louisa couldn't be expected to write what she may not have believed and besides, lived-out Christian belief is extremely difficult to convey in a way that's artistically satisfying.
But those scenes where Meg is dealing with envy and Jo is dealing with anger are artistically satisfying and truthful about the human propensity to sin. G. K. Chesterton praised the novel for its realism and that's where the realism truly shines: some things don't change, and we can all relate.
There are so many retellings and theater productions, movies, musicals, and operas we will never lack the company of Meg, Jo, Beth, and Amy. Spunky young heroines with writing ambitions have been a recurring theme in children's literature ever since. Coincidence? Think of Rebecca of Sunnybrook Farm, Anne of Green Gables, Little House on the Prairie et al., A Tree Grows in Brooklyn, A Wrinkle in Time, and Harriet the Spy are indirect examples. And there are plenty of more direct examples, too:
The Portraits of Little Women series by Susan Beth Pfeffer expands the adventures of the March sisters in separate volumes (such as A Gift for Beth). I haven't read any of these.
The Little Women Journals series by Charlotte Emerson allots a separate volume to each sister, telling her story in journal form (e.g., Meg's Dearest Wish, Jo's Troubled Heart).
Rule of Three (The Sister Club series, #2) by Megan McDonald. In this series about three sisters for 4th-6th graders, Alex, Stevie, and Joey read Little Women as a background to their theatrical ambitions.
Little Women and Me by Lauren Baratz-Logstead features a time-traveling heroine who is transported to 1960s Concord and actually becomes one of the March sisters. A fifth March sister, apparently—I haven't read it so it's hard to say.
Littler Women is a contemporary retelling that puts Meg March at 13 and Amy at 9. Dad is away on a one-year National Guard deployment and Mom works at the local homeless shelter. The events in the update closely follow the original, including the cute boy-next-door. Not great literature, but a fun read for younger middle-graders.
More to the Story is another contemporary retelling, this one about an Islamic family living in Atlanta. Matching up the characters with their Little Women counterparts is fun.
The Mother/Daughter Book Club. This is the first of a series of novels about four girls who don't start out as friends, but will be drawn closer together through their mutual reading of the classics. Their mothers are instigators, and at the beginning the girls aren't thrilled, but the first book they read together is Little Women, and all the girls find enough relevance in it to move on to another classic in the next volume of the series..
The Penderwicks series. Not a direct parallel, but Rosalind, Sky, Jane, and Batty model characteristics of the March sisters, and there's also a cute boy next door. Over the course of seven years big changes will come to the family, but author Jeanne Birdsall has identified Little Women as her primary inspiration. It's one of our favorite series, especially for contemporary girls (though boys can enjoy it too!). We had further thoughts on The Charm of the Penderwicks.
Louisa May's Battle is a biographical picture book about Alcott's experience as a nurse during the civil war. This phase of her life didn't last long, as she soon contracted camp fever and was sent home to Massachusetts to recuperate. But her experiences led to Hospital Sketches, her first successful book.
Invincible Louisa is the classic children's biography by Cornelia Meigs. It's a bit sanitized, but beautifully written, and because it won the Newbery medal in 1934, you can probably still find it on the shelf of your local library.
Meg, Jo, Beth, and Amy: a Graphic Novel, by Rey Terciero and Bre Indigo, was published last year in honor of the 150th anniversary. The sisters are a bi-racial blended family living in Brooklyn where their mother is a nurse and their dad is deployed in the Middle East. In spite of some "omg" profanity, it holds up pretty well until the last few chapters, when Jo announces she's gay and all the sisters participate in the Women's March of 2017. Such are the times.
Meg, Jo, Beth, Amy: The Story of Little Women and Why It Still Matters, by Anne Boyd Rioux, is a compendium of history, filmography, and critique that thankfully toots no particular ideological horn. It's written for adults, but any fan should find it fascinating.
Here's a similar post on the literary heritage of The Pilgrim's Progress.
More than 75 books for children and teens, all about islands, oceans, and more. Bonus: get a free hand-drawn reading tracker!
Reading Ahead for You
Reviews and Resources Weekly in Your Inbox