Young consumers will find Follow Your Stuff a fascinating trek through the global production market.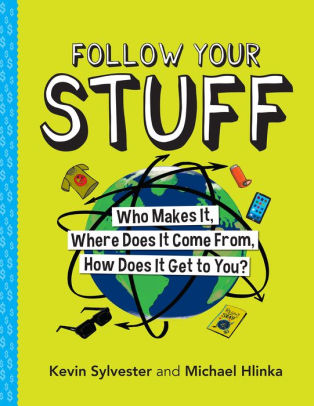 Follow Your Stuff: Who Makes It, Where Does It Come From, and How Does It Get to You? by Kevin Sylvester and Michael Hinka. Annick Press, 2019, 95 pages
Reading Level: Middle Grades, ages 8-10
Recommended for: Ages 10-15
Everyone agrees: never in history have people owned so much stuff. Immediately after the biggest shopping and giving season of the year, we may be inclined to wonder: where does it all come from? Who buys it? What happens to stuff nobody buys? That last question is still on the table (and I'm still wondering), but for the other two, this book as some interesting and detailed answers. The writer and illustrated, who earlier collaborated on Follow Your Money, track the origin and production of four consumer items, from the lowly t-shirt to the high-tech, high-dollar smartphone. Even the simplest item hop-scotches the globe on its journey from raw commodity to retail store, adding costs at every step along the way. Each step, it seems raises issues and questions for the would-be consumer. Should you purchase clothing made in a sweatshop? Should you research the fair-trade practices of that designer product. Is it worth paying more for a name-brand logo? Who gets that money? These questions are just that—though the writing team has a point of view, they don't appear to be pushing an agenda. It's probably impossible to be a completely responsible consumer, but the complex of getting goods to the market should be eye-opening and thought-provoking for young readers.
Overall Rating: 4 (out of 5)
Worldview/moral value: 3.5
Artistic/literary value: 4.25
Follow other money trails with our reviews of The Survival Guide to Money Smarts and The Money-Smart Family. Also, here's a roundup of books about making money, spending it, and thinking about it. The Year Money Grew on Trees is a novel about a boy who inherits an apple orchard. Seeing the crop from bud to fruit stand is-much more exciting than it sounds!
We are participants in the Amazon LLC affiliate program; purchases you make through affiliate links like the one below earn us a commission.
More than 75 books for children and teens, all about islands, oceans, and more. Bonus: get a free hand-drawn reading tracker!
Reading Ahead for You
Reviews and Resources Weekly in Your Inbox