Littler Women pictures the four March girls as 9-to-13-year-olds growing up in a tight-knit family in modern-day Massachusetts.
Littler Women: a Modern Retelling by Laura Schaeffer.  Simon & Schuster, 2017, 215 pages.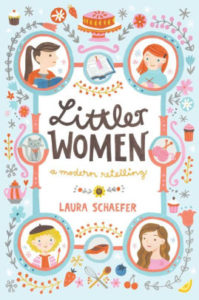 Reading Level: Middle grades, ages 8-10
Recommended for ages 8-12, especially girls
The March girls live in a large, drafty old house in New England.  Pretty Meg is 13, tomboyish Jo is 12, sweet, homebody Beth is 10 and perky Amy, "the most important person is the room (according to Amy)," is 9.  As our story opens the girls are not anticipating Christmas with their usual enthusiasm, mostly because their beloved Dad is on a one-year deployment with the National Guard.  But their natural generosity comes to the fore when they share their Christmas breakfast with the less fortunate at the shelter where their mom works.  The well-to-do neighbor next door hears of it and makes up their loss with an abundant evening feast.  What a kind man is Mr. Lawrence!  And his grandson Laurie is kind of cute.
"A modern retelling" sums it up: we follow the March girls through the year with events echoing the original.  Fans of Little Women will want their fourth- and fifth-grade girls to read it in anticipation of encountering an older Meg, Jo, Beth, and Amy in Alcott's classic.   As I was reading it, it occurred to me that attitudes and concerns appropriate for young ladies of 12-17 in the 1860s are more liable to be shared by 8-10 year-olds today.  The preachiness that sometimes drags down the original carries over into the retelling, but the little sermons are worthwhile and not too intrusive.  However, the Christian influence of the original is lacking here.  "Hannah looked up at the ceiling as if asking her higher power" for advice; in the last chapter the girls "thank Mr. Lawrence and God and whoever else they could think of" for Dad's safe return.  Still there's a warm beating heart at the center of this novel.  Also something extra at the end of almost every chapter: a recipe, a knitting pattern, a household tip, or a reminder to write thank-you notes!
Cautions: None
Overall rating: 3.75 (out of 5)
Worldview/moral value: 4
Artistic value: 3.5
Please follow and like us: