The Penderwicks: A Summer Tale of Four Sisters, Two Rabbits, and a Very Interesting Boy, by Jeanne Birdsall. Knopf, 2005. 262 pages.
Reading Level: Middle Grades, ages 8-12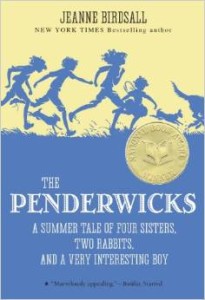 Recommended For: ages 8-10 and up, especially girls
Bottom Line: The Penderwicks, first in a series, delightfully introduces readers to the four Penderwick sisters, their widowed father, and a hound named Hound.
From its pastel yellow-and-blue cover to the silhouetted chapter headings, everything about this book shouts, "Throwback!" A throwback to an earlier era of children's literature, that is, which of course is no bad thing. Leave out the occasional mention of a computer or video game, and it could have happened any time within the last sixty years. The premise is classic: with their widowed father and a hound called Hound, the four sisters travel to a cottage in the Berkshires for summer vacation. Their personalities are different but complementary: Rosalind is sensible and thoughtful, Skye is impulsive and tomboyish, Jane is imaginative and literary, and Batty is the baby, cute and shy, who never goes anywhere without her butterfly wings. The Interesting Boy lives next door—or more accurately, in the lavish home of his wealthy single mother who never listened to him much and listens to him even less now that she has a caddish boyfriend. Mother is determined that the Interesting Boy (okay, his name is Jeffrey) follow in the footsteps of his illustrious grandfather, General Framley. But Jeffrey is a musician in his heart and soul. Will he be forced to go to military school? Or will the Penderwicks help him change his all-but-certain destiny?
The plot may seem a little quaint, but it's well told and most of the characters are nicely developed (Jeffrey's mother and her boyfriend are a bit stereotypical). Like Meg, Jo, Beth, and Amy, the girls' personality quirks occasionally raise hackles among themselves, but they nevertheless accept and value each other for those very quirks. Jeffrey's family, where everyone is expected to be someone else, makes an unhappy contrast. The Penderwicks cheerfully stir up their friend's static household, and it's not giving too much away to say that the story ends happily.
The Penderwicks, Ms. Birdsall's first novel, won the National Book Award for children's literature in 2005. It's in stark contrast to other winners of that award, which are chosen for their edginess or literary verve. Some might even qualify as experimental fiction (like the 2006 winner, Octavian Nothing). Children don't necessarily like experiments, though, nor do they ask to be experimented on. The Penderwicks is sound, clean, funny, and likable—a breath of fresh air, with characters worth meeting. [See our reviews of the other Penderwicks books: The Penderwicks on Gardam Street, The Penderwicks at Point Mouette, and The Penderwicks in Spring]
Cautions: Language (an occasional misuse of God's name, especially from Jeffrey's mother)
Overall Rating: 4.5 (out of 5)
Worldview Rating: 4
Artistic Rating: 4.5
Categories: Realistic Fiction, Middle Grades, Character Values, Award Winners, Life Issues, 4 stars and up
Cover image from Amazon

Support our writers and help keep Redeemed Reader ad-free.