Words on Fire explores a little-known chapter of European history to make a case for the necessity of words, literature, and language to a culture.
Words on Fire by Jennifer A. Nielsen. Scholastic, 2019, 322 pages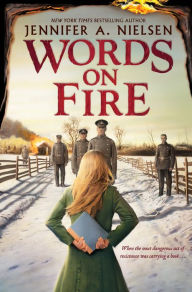 Reading Level: Middle Grades, ages 10-12
Recommended for: ages 10-15
By profession, Audra Zikaris's father is an itinerant magician, but he deals in another kind of magic too: not illusions, but words. Audra doesn't know—she can't even read—but both her parents are involved in a long-term project to free Lithuania from the heavy hand of imperialist Russia–by smuggling books, rather than weapons. Books in their own language by their own authors. For decades, native Lithuanians have been forbidden to read or even speak their own language, as the Czar attempts to make them Russians. When the Cossacks finally raid Audra's farm and arrest her parents, she escapes after promising her mother to make one delivery. But that one mission grows into a calling as a book smuggler, as Audra becomes convinced of its urgency. "How do you destroy a people? You take away their culture. And how is that done? You must take their language, their history, their very identity."
This little-known chapter of European history deserves a strong, accurate, action-packed fictional treatment. As in her previous novels, Resistance and A Night Divided, Nielsen presents a young girl standing up to massive injustice and oppression with help from a few stalwart allies. Audra doesn't quite gel as a character for me: her conversion from indifference and ignorance to underground hero seemed a bit too quick, her resourcefulness and leadership ability a bit too mature. And if her parents were so devoted to the cause of literacy, why didn't they teach her to read? Quibbles aside, the author delivers enough thrills to keep the pages turning, along with food for thought about the importance of words.
Overall Rating: 4 (out of 5)
Worldview/moral value: 4.5
Artistic/literary value: 3.5
Also by Jennifer Nielsen: The Ascendance Trilogy and The Traitor's Game. For another, much grimmer look at a later stage in Lithuanian history, see our review of Between Shades of Gray
We are participants in the Amazon LLC affiliate program; purchases you make through affiliate links like the one below may earn us a commission. Read more here.
Reading Ahead for You
Reviews and Resources Weekly in Your Inbox