Between Shades of Gray, by Ruta Sepetys.  Penguin/Philomel, 2011, 338 pages.
Reading Level: Young Adults, ages 12-15
Maturity Level: 6 (ages 15-18) and up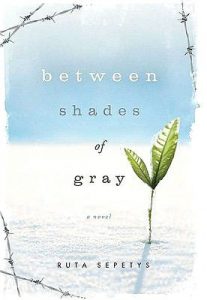 June 14, 1941, Kaunas, Lithuania: They took me in my nightgown.
Fifteen-year-old Lina had no preparation for what would happen that night, but looking back, it added up: her parents had already helped her father's brother and his family escape to Germany, and hoped to escape themselves.  But the Soviets came first.  Lina had twenty minutes to gather her things—"Davai! Davai!"–and glance at herself in the bathroom mirror.  It was the last time I would look into a real mirror for more than a decade.  Through the eyes of one girl, a chronicle of the fate of the Baltic nations under Stalin: "anti-Soviets" rounded up, deported, shot, and starved, then wiped from the records as though they had never existed.  Lina's face disappears from the mirror as though disappearing from history.  It was worse than Nazi concentration camps, in a way—those came to an end within a few years.  But the Soviet incarceration of millions of human beings, arbitrarily condemned, went on and on.  In Lina's case, for twelve years: thirteen months in a labor camp in Siberia, the remainder in Trofimousk, on the Arctic Sea—out of sight and mind of man, but not God.
The story is told in details—fresh bread left behind on the table of the family home; boys on the train smoking pages of The Pickwick Papers; a woman taken from a hospital only minutes after giving birth; Lina's last words with her father through the latrine hole of a boxcar; a letter from home so precious that everyone passes it around and kisses the stamp; brother Jonas pulled back from the ravages of scurvy by a can of tomatoes.  Lina draws it all.  Her art is a subversive act—sometimes a raised fist, sometimes a heartbroken tribute.  The story is drawn from the experiences of the author's relatives and friends.  Such things really happened.  Throughout the narrative, you have to wonder: How did anyone live through this?  Many didn't.  Nina wonders how her mother can give and give and forgive and forgive—but love reveals to us the truly miraculous nature of the human spirit (author note).
The human spirit is miraculous, in the sense that it defies atheistic materialism.  Something in us believes and hopes and refuses to give up, though the novel is noncommittal about what that Something is.  There is not much direct "God talk," even though Psalms are read and prayers are prayed.  But even when the human body is treated like rubbish—"Every time the train pulled away, we left a litter of corpses in our wake"—there is no doubt about the human soul.  In a flashback, Lina recalls seeing her face in a rain puddle, which
shimmered around me, creating a beautiful frame around my face.  I wished I could photograph it to draw later.  Suddenly, a faint shadow appeared behind my head in the puddle.  I turned around.  A pastel rainbow arched out of the clouds.
Even in deepest gloom, redemptive moments shine: Just as I would swing into the abyss of hopelessness, the pendulum would swing back with some small goodness.  Small goodness is what makes the book worth reading, though the context is unrelievedly grim.  Between Shades of Gray also contains mild profanity and frank acknowledgment of helpless women using sex for preferment (though this isn't shown, only referred to).  Parents, as always, should use their judgment about what would be profitable for their kids, but all of us should recognize the parameters of evil, and how God works within them.
Cautions: Language (mild profanity), Dark/Depressing
Overall rating: 4.5 (out of 5)
Worldview/moral value: 4
Artistic value: 4.5
Categories: Historical Fiction, Young Adult, Award Winners, War, Character Values, Life Issues
More than 75 books for children and teens, all about islands, oceans, and more. Bonus: get a free hand-drawn reading tracker!
Reading Ahead for You
Reviews and Resources Weekly in Your Inbox