A great middle grades-level look at both Martin Luther in particular and the Protestant Reformation in general.
Martin Luther and the Reformation by Lou Hunley. Christian Faith Publishing, 2019. 62 pages.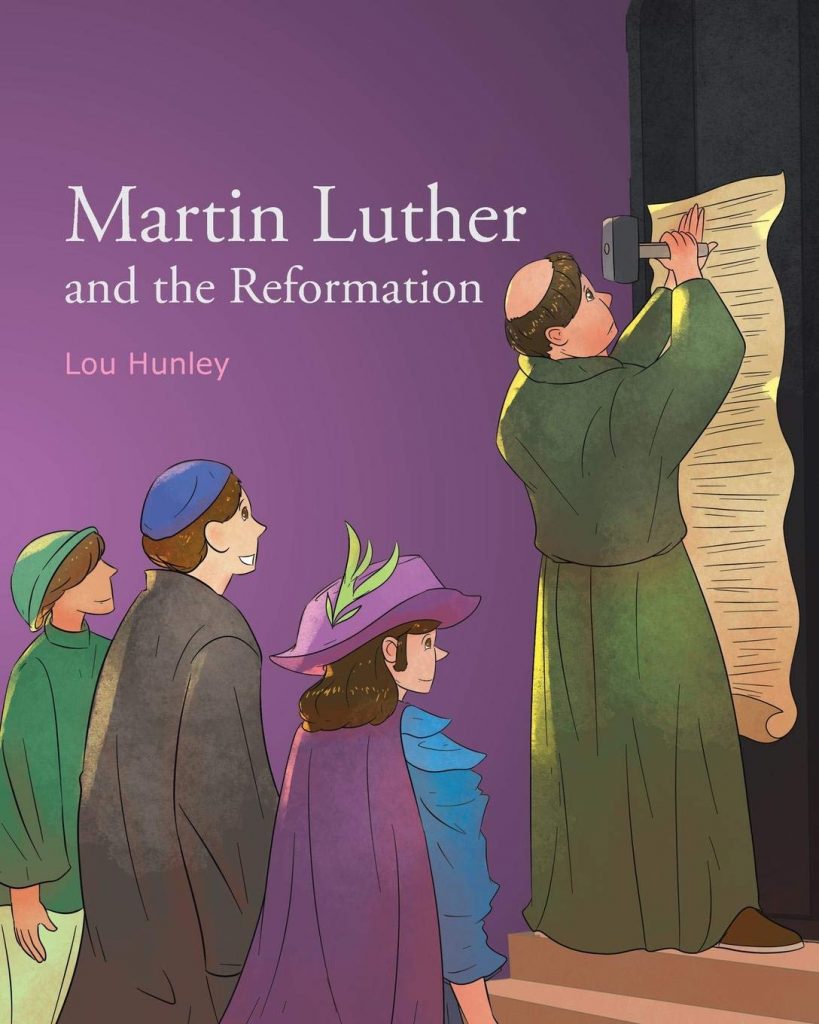 Reading Level: Ages 10-12
Recommended For: Ages 8 and up
Martin Luther lived during a tempestuous time in history: the Middle Ages were giving way to the Renaissance, the Protestant Reformation was a pile of kindling waiting for Luther's match, and the printing press was poised to change the way people received information for ever.
Hunley starts with this time period rather than with Luther himself. Death (especially from the plague) and the Medieval church dominated the lives of average Europeans. The first three chapters look at these all-consuming features; Hunley looks particularly at indulgences and the doctrine of purgatory.
It is in this setting we find Martin Luther, a young monk trying desperately to be good enough to get into heaven. Hunley devotes the rest of the book to Luther's life and his influence on the church of his day–an influence that continues to the present!
While the art is not remarkable, Hunley's text provides solid information for students of the Reformation, whether they are children or adults. Source material is meticulously documented, and a full bibliography provides plenty of further reading suggestions for those wishing to dive deeper. Several chapters contain boxed text that explains a historical or theological concept in further detail: "The Five Solas," John Huss, the connection between Martin Luther King, Jr and Martin Luther, and more.
The last chapter, "The Legacy of the Reformation," is an outstanding conclusion. Hunley doesn't speak to the churches and Christians that label themselves "Reformed." Rather, she speaks to all believers in showing the debt we all have to Luther and the Protestant Reformation: the Roman Catholic mass is not only in Latin, but available in the every day language of the people. Roman Catholics as well as Protestants sing Luther's famous hymn, "A Might Fortress is our God." Christians have a choice in which church/denomination they attend rather than being limited to one state church. Many people around the world have access to God's word in their own language, and missionary translators are hard at work in many communities that do not yet have a written Bible. All in all, this is a valuable resource that would be a good choice for a home or church library (or a Christian school library).
Considerations:
The first chapter is stark, looking at the rampant death rate in the Middle Ages. Young, sensitive readers may wish to skip to the second chapter.
Overall Rating: 4.25 (out of 5)
Artistic Rating: 3.5
Worldview Rating: 5
Related Reading from Redeemed Reader:
Need a Bible for your children or teens? Be sure to check out our FREE Guide to the Best Bibles for Children and Teens! Thanks to the Lord's work through the Reformers, we have many options today in our own language. Sola Scriptura.
We are participants in the Amazon LLC affiliate program; purchases you make through affiliate links like the one below may earn us a commission. Read more here.
Support our writers and help keep Redeemed Reader ad-free.