December is such a wildly busy month: Christmas concerts and recitals and school performances and parties. Travel plans and/or welcoming extended family into your home. Exams and final projects. Christmas baking….

The Love Your Neighbor Book Club December Pick
Which is why the December choice for the Love Your Neighbor Book Club is a fun, light read that involves baking! Our previous Love Your Neighbor Book Club picks have looked at our metaphorical neighbors in light of the Good Samaritan: those who look different from us (El Deafo, Ugly), have a different religion from us (Inside Out and Back Again), live in–or come from– a different cultural setting from us (Inside Out and Back Again, A Long Walk to Water, Save Me a Seat), are enemies even within our own families (Tangerine), and more.
For December, we read about loving our actual neighbors: those who live on our streets, in the apartment next to us, use the same dog park as us, go to the same library branch as we do. The Vanderbeekers of 141st Street  is about as perfect a December choice as we could make. Bonus: it takes place right at Christmas and involves cookies.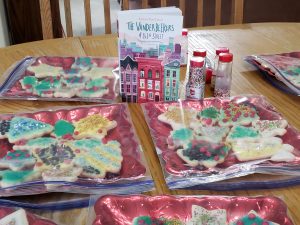 In lieu of discussion questions for this book, we brought homemade sugar cookies to the meeting (which we held at a book club member's house) and decorated them! The goal was to end up with enough plates of pretty cookies to pass out to our real life neighbors. Mrs. Vanderbeeker does this in the story, and loving a real life, hard-to-love, landlord/neighbor is the main goal of the story. Along the way, though, the reader realizes just how well the Vanderbeekers have loved all of their neighbors (not only with cookies!).
Go forth and do likewise!
If you are reading The Vanderbeekers at a different time of year, you can still bake cookies for your neighbors. They don't have to be Christmas-y sugar cookies. Bake up some oatmeal raisin cookies, some heart-shapes, Scottish shortbread, some chocolate chip cookies…. Get creative!
You might also think outside the box: bring some cookies to neighbors on your street, yes, but you can also bring sweet treats to people like the librarians at your local branch (we do this every year!), your local fire station, the police station, your Sunday school teachers, and more.
True Story
My own family has a "Biederman" neighbor who seems bent on disliking us. There is some baggage between us as neighbors, but the instances that brought on that rift were no one's "fault." Accidents happen, but that doesn't automatically make people feel any more loving to those involved. Truthfully, I avoid them. I'm a pretty friendly person who likes to wave at my neighbors and chat over the fence if the occasion presents itself. But not in this case.
However, after we read this book and planned to make cookies, my kids and I realized that we weren't loving this neighbor. We needed to bring them cookies, even if they still don't like us. We can be kind and thoughtful because it's what the Lord would want us to do regardless of their heart condition. And perhaps, just perhaps, a small gesture like homemade cookies can be a means of sharing the love of God.
Happy Christmas baking! Take some time this busy holiday season to love your real neighbors, not just your family and friends at the official parties and gift-giving occasions. After all, we love because Christ first loved us!
More than 75 books for children and teens, all about islands, oceans, and more. Bonus: get a free hand-drawn reading tracker!
Reading Ahead for You
Reviews and Resources Weekly in Your Inbox