The Vanderbeekers, a loving family with normal unloving moments, face a Christmas-eve challenge with humor and heart.
*The Vanderbeekers of 141st Street by Karina Yan Glaser.  HMH, 2017, 209 pages
Reading Level: Middle grades, ages 10-12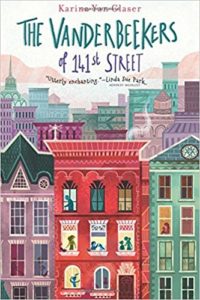 Recommended for: ages 10-14 (independent readers), 6-up (family read aloud)
The Venderbeekers live in a century-old brownstone smack in the heart of Harlem.  Besides Papa and Mama (who are called Papa and Mama), there are the 12-year-old twins Jessie and Isa, 9-year-old Oliver, 6-year-old Hyacinth, and 4 (and ¾) year-old Laney, along with an assortment of furry four-footed family members.  As their story opens Papa announces he has good news and bad news.  First the good: "You kids all know how much we love you, right?"  This leads the older ones to immediately suspect their folks are getting a divorce.  But (thankfully) no—the bad news is that their landlord Mr. Beiderman, who also lives on the top floor, is not renewing their lease.  Here it is, only five days to Christmas, and their most significant present is thirty day's notice.  Not just to move out of the brownstone, but most likely to say good-bye to the neighborhood, where Papa has lived since he was a boy.
This cannot stand.  The kids have to find a way to suck up to the reclusive, misanthropic Mr. Beiderman so he'll change his mind.  Hence a series of schemes which even a gregarious anthropope could see are bad ideas.  Hijinks ensue, with predictable results.  Christmas is looking grim until a kind of miracle occurs . . .
Any devotee of children's literature will recognize the genre right away.  We might call it the "loveable clan" tale, such as the Bastables and the Penderwicks and the All-of-a-kinds.  In spite of our culture's urge to tamper with it, and our own tendencies to spoil it, there's something enduring about the family structure God created: diverse individuals growing up together in one house with organic, emotional, and spiritual bonds.  They are not only teasing, irritating and (sometimes) fighting with each other, they're also learning together.  Some lessons are best learned in close, involuntary proximity—lessons such as real tolerance, patience, and (most of all) loving each other and your neighbor.  The ending may wrap up a little too neatly, but the Vanderbeekers face real problems and conflicts with real tenacity, and plenty of laughs along the way.  We look forward to further adventures on 141st St.
Cautions: None
Overall rating: 4.75 (out of 5)
Worldview/moral value: 4.75
Artistic value: 4.75
Update: Speaking of further adventures, don't miss The Vanderbeekers and the Hidden Garden and The Vanderbeekers to the Rescue.
Please follow and like us: