Traditions
Traditions are marvelous things, aren't they? The best traditions anchor our celebrations, our family and church life, and even our culture's collective experience.
Sometimes, though, traditions become Traditions with a capital "T." In this age of Instagram and Pinterest, it's easy to look at other people's traditions, particularly those around the holidays, and think, "I should be doing that." My kids won't really experience Christmas until I have wrapped up 24 books for us to open each day of Advent. Or, my kids won't get the real meaning of Christmas if we don't handcraft our own Jesse Tree ornaments.
Those practices are lovely and meaningful traditions for certain families, but just because one family on Instagram is doing one thing doesn't mean your family has to do the same thing.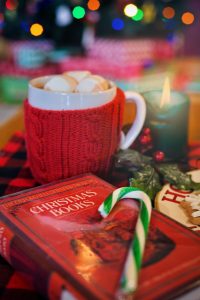 A Simple Tradition
I offer my family's Christmas book tradition below, knowing it won't be for everyone. But perhaps it will resonate with some of you and provide a fun, new way to enjoy some low-key family time, particularly if you have older kids.
Three years ago, I stumbled across an article about Iceland's Yule Book Flood. I can't remember the specific article now, but two things stood out to me: books and chocolate. Perfect.
My kids were ages 9 and 10 that year, we were in a new state/new house, and many of our former Christmas traditions were changing.
I jumped at this possible new tradition, and it's now a firm part of our Christmas festivities. It's a perfect way to enjoy some cozy time with bigger kids, to turn off the screens and noise for a while, and just enjoy the anticipation of the coming day. This is not a particularly spiritual tradition, but it is a very family-centric practice and that has its own benefits.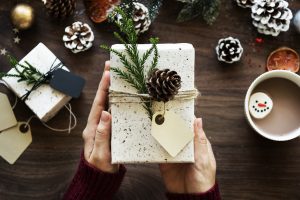 The Christmas Book Flood
Every year, I give my kids a new book. Those used to get lost in the shuffle of Christmas morning hoopla and other, shinier presents. Now, those same books have been moved to the night before. Everyone gets to unwrap a new-to-them book, accompanied by some chocolate, and they may stay up as late as they'd like reading that book. No bedtime. No brushing of the teeth required!
And, they get to sleep out by the Christmas tree. We do this with all the cousins who might be present as well.
It's now something everyone looks forward to, and it's our fourth year. My kids are speculating on what this year's Christmas Eve book is going to be (it's never a reference type book, but a novel or narrative nonfiction; it must be the kind of story they want to dive into and read!). I've already ordered them and had them shipped to our Christmas destination. It's daunting to pick a book someone will want to read that very minute, but so far, so good.
What are your family's bookish Christmas traditions?
Please follow and like us: