Lovely, Literary, and Light-hearted: Fairy Tales are a Perfect Match for Summer Fun
Looking for some fun, low commitment reading for this summer? Perhaps you have a beach trip planned, or you just want something for those tired afternoons after a day at the pool?
Summer schedules can be delightfully irregular, but that same spontaneity makes keeping up with a complex chapter book a little more challenging. Try reading through a fairy tale or short story anthology, one story at a session. If you don't pick the book up for a week, no harm done. If you don't "finish" the book on vacation, just put a sticky note at the next story; the book is now ready for your next reading session, be it a week, a month, or a year hence.
Children of all ages truly delight in a well told fairy or folk tale. Even if they have "heard" them before or "know" the story, they will still delight in a new reading of it. The books listed below go beyond the familiar Disney fairy tales, although many reflect the same eras of those familiar stories (especially the Victorian time period). They are lovely, literary, and light-hearted.
Note: Many of these are out of print. Unfortunately, there's not enough market for high quality fairy tales to keep these in print. Don't rush out to buy each one, but use this list as a guide to great anthologies; snap them up when you see them for a good price or commit to tracking down just one for this summer.
Fairy Tales for Summer: A Booklist for Summer Fun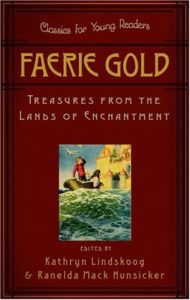 Wise Words: Family Stories that Bring the Proverbs to Life by Peter Leithart. One of our top choices last summer, this is a treasure! The whole family can benefit from musing over these. Read our starred review for more information.
The Prince's Poison Cup and others, by R. C. Sproul. These aren't available in anthology form, but they are excellent! Ask your church library to keep them on hand if you can't afford investing in them for your own family.
Faerie Gold: Treasures From the Land of Enchantment, edited by Ranelda Mack Husicker and Kathryn Lindskoog. Marvelous fairy tales that will be new to most readers, this is a volume well worth owning! Read our starred review for more information.
The Victorian Fairy Tale Book, edited by Michael Patrick Hearn. Ranging from the more familiar "King of the Golden River" by Ruskin to more obscure tales by authors such as Charles Dickens and William Makepeace Thackeray, this is a volume for tweens and teens. Some stories are quite long! Out of print, but worth tracking down, especially if your family enjoys Victorian literature.
Gifts of the Child Christ and Other Stories and Fairy Tales by George MacDonald. Another Victorian gem, also worth tracking down. C. S. Lewis credits George MacDonald with "baptizing his imagination," and his fairy tales and fantasies are gems. This volume is another one well suited for tweens and teens.
The Fairy Tales of Oscar Wilde, various versions. Several of his tales have been made into picture books (such as "The Selfish Giant" and "The Happy Prince") and many have distinct spiritual themes.
Seven Tales by Hans Christian Andersen, illustrated by Maurice Sendak. This particular version is out of print, but keep an eye out! If you can't find it, there are numerous other versions around. Famous tales include "The Ugly Duckling" and "Thumbelina" and many more!
The Rainbow Fairy Book by Andrew Lang and illustrated by Michael Hague. Andrew Lang was one of the first to collect fairy tales; his colored fairy tale books are still around (blue, green, violet, and more). But if you want to sample some of his best, this anthology is a great start.
The Random House Book of Fairy Tales illustrated by Diane Goode. This is a terrific start to the classic fairy tales by Perrault, the Grimm Brothers, and Hans Christian Andersen; it contains many old favorites in a good length to read aloud.
The Tasha Tudor Book of Fairy Tales. Tudor's artistic style is beloved by many; her fairy tale anthology is out of print, but keep your eyes open! You might stumble across it now that you know to look for it.
Grimms' Fairy Tales illustrated by Arthur Rackham. What better way to enjoy some of the famous Grimms' fairy tales than with Rackham's illustrations as accompaniment? Warning: the original fairy tales can be quite gruesome; Disney has tamed them. Parents should pre-read before reading aloud to young children.
Favorite Fairy Tales Told In… by Virginia Haviland. Choose a country! There are anthologies for countries such as Spain, China, India, Scotland, and more. This will expand your cultural literary background.
Collected Stories by Richard Kennedy. Not fairy tales, per se, but an excellent collection of stories that just beg to be read aloud. For those who enjoy humor, we recommend "The Contests at Cowlick" as a great choice! In the mood for a truly romantic story? Start with "The Dark Princess."
The People Could Fly: American Black Folk Tales by Virginia Hamilton and illustrated by Leo and Diane Dillon. A terrific introduction to African American folk lore, these aren't technically "fairy tales" but are good complements to this list!
Tales of Uncle Remus: The Adventures of Brer Rabbit by Julius Lester and illustrated by Jerry Pinkney. This is a good collection of these famous tales that updates the dialect and racial condescension of the earlier version.
Finally, check out the 398.2 section in your local library's nonfiction shelves. Look for authors such as Paul Galdone, Jerry Pinkney, and James Marshall for delightful picture book versions of famous fairy tales.
What did we miss? What is YOUR favorite fairy tale or folk tale anthology?
More than 75 books for children and teens, all about islands, oceans, and more. Bonus: get a free hand-drawn reading tracker!
Reading Ahead for You
Reviews and Resources Weekly in Your Inbox