*Faerie Gold: Treasures from the Lands of Enchantment edited by Kathryn Lindskoog and Ranelda Mack Hunsicker. P&R, 2005. 304 pages.
Reading Level: Middle Grades, ages 8-10, ages 10-12
Recommended For: all
Bottom Line: An excellent collection of literary fairy tales by classic writers, tales that are rich with Truth and the best kind of storytelling.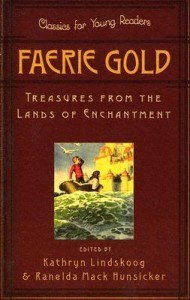 This beautiful collection of literary fairy tales is chosen from some of the best classic writers for children. They know how to tell a good story, weave Truth into it, and keep it engaging enough for readers and listeners without using a didactic tone. In one story, Prince Cherry ignores the fairy's warnings and the pricks of his ring (conscience) and consequently turns into a beast. After he humbles himself, he is restored and rewarded. The message is clear, though it could be nicely followed with a reading of Daniel 4. In another story, a wife complains of her misery as a result of Eve's disobedience, thinking that she would not behave so foolishly, but is proven otherwise. Other stories model kindness and obedience.
There are tales of princes and princesses, and tales of ordinary children who learn discernment through encounters with faerie. In some stories, magic is used as a tool to make things happen, while other stories point directly to the glory and goodness of God that is reflected in nature and in the gospel.
Although many of the authors are well-known (including George MacDonald, Edith Nesbit, Louisa May Alcott, Andrew Lang, Christina Rossetti, Hans Christian Anderson, Laura E. Richards, and Selma Lagerlof), this is a unique collection of stories. Some are more familiar than others but all are pleasant to read, and many of them demonstrate how fantasy is a lifelong means of breaking through the barriers of time, place, and matter in order to glimpse spiritual realities. The stories chosen by Lindskoog and Hunsicker offer a taste of moral excellence and longing for better joys. And, of course, it is this taste of joy and desire that draws us ever onward to the most incredible, true, and wonder-filled of all stories—the gospel.
The back of this volume provides an essay discussing the need for fairy tales and fantasy, a collection of quotations by great men and women about the importance of fairy tales, and biographical information about the authors whose stories are included. A study guide is available for those who would like to go deeper.
Cautions: none
Overall Rating: 5 (out of 5)
Worldview Rating: 5
Artistic Rating: 5
Categories: Starred Review, Fantasy, Fairy and Folk Tales, Short Stories, Classics, Character Values, Anthologies
Cover image from goodreads. A copy of this book was received from the publisher for a fair review.
*indicates starred review

More than 75 books for children and teens, all about islands, oceans, and more. Bonus: get a free hand-drawn reading tracker!
Reading Ahead for You
Reviews and Resources Weekly in Your Inbox